NEWS
Snooki Was The Host With the Most (Most Hat, That is)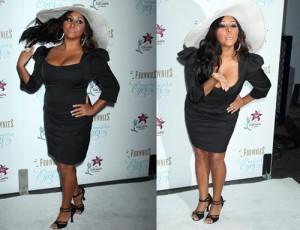 While hosting the Hampton Chic Yacht Party for the launch of "Beautiful Eyes" by Frownies, Snooki took the word "chic" to heart and ditched her usual poof and fuzzy slippers for a — dare we say — pretty classy get-up! It almost seemed more appropriate to call the starlet by her lesser known name (Nicole Polizzi) at the event, which took place at the FantaSea Yacht Club in Marina del Rey, California on Monday.
Article continues below advertisement
After the Red Carpet, where she showed off her Audrey Hepburnesque hat and sexy LBD, Snooki and the rest of the guests, including Tenley Molzahn and Kiptyn Locke, headed onto a luxurious yacht where the little pickle-popper posted a picture of herself on Twitter behind the steering wheel of the boat.
OK! GALLERY: JERSEY SHORE CAST STROLLS IN SUNNY CALI
Now, we're willing to open our minds and think of Snooki as a Hamptons hat kind of lady, but Snooki in a captain's hat?! Snooki steering a boat is more dangerous than being stuck between J-Woww and Sammi Sweetheart in the middle of a girlfight!
OK! NEWS: SNOOKI PLEADS GUILTY TO DISTURBING THE PEACE
Snooki regularly wears mirrored sunglasses that she can't even see out of and isn't exactly known for her coordination or sharp focus. But then again, if you're going to go down with the ship you might as well go down looking fabulous, and that is one thing Snooki sure was on Monday.