NEWS
Snooki's Appearance Price Rises with Each Punch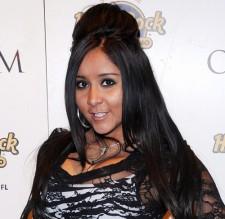 Her hair isn't the only thing that's going up! Apparently Nicole "Snooki" Polizzi's appearance fees reached new heights after she was punched in the face in a bar brawl.  According to a leaked email from NYU Law's student listserv, Snooki's appearance fee started at a rate of $2,000 and quickly rose as students tried to book the Jersey Show star, Gawker reports.
Before Snookie was punched in the face on camera she was the cheapest Jersey Shore member making $2,000 an appearance. But after, she became the most expensive — $10,000 an appearance!
Article continues below advertisement
Apparently, the other cast members need a better tan to charge higher fees for party appearances.
Since December, The Situation and Pauly D have reportedly been making $7,5000. An appearance for J-Woww cost about $5,000 in December and Vinny and Ronnie were equal at $3,500, but in January Ronnie's fee dropped $500. A joint appearance with Sweetheart only made a combined profit of $3,000.
Hopefully, the other cast members don't start fights to get higher fees!