NEWS
Snooki's Pregnant, Situation is Sober: 'Jersey Shore' Recap: Final Season Premiere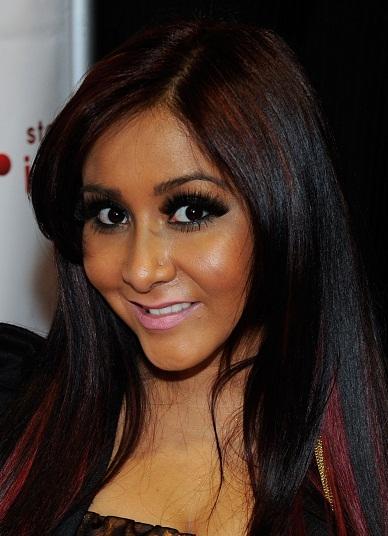 Well, it happened. The last-ever season premiere of Jersey Shore aired on MTV Thursday night. How is everybody feeling today?
We open with the usual suspects getting ready to depart for one last (paid) summer down the shore. A friend summed up the first half hour like this via text message: "Mike is sober and is 'not exactly dating but the closest thing to it' with that girl he always hooks up with. Sam and Ron: On. Snooki is pregnant. Deena lost a ton of weight and has a boyfriend. Pauly's the same. JWoww lives with Roger and they fight sometimes. Vinny loves his mom."
Article continues below advertisement
First: she sits at a table looking pensive with Sammi "Sweetheart" Giancola, Jenni "Woww" Farley and Snooki.
JWOWW: Are you in deep thought?
DEENA: Yes.
JWOWW: What are you thinking about?
Deena breaks down in hysterical tears. We thought it was just a biological result of all the deep thoughts infiltrating Deena's brain, but she then confesses that she misses her boyfriend, Chris.
"It's only the second day!" she wails.
Article continues below advertisement
We gave Deena the benefit of the doubt; before this, she was processing that her fellow "meatball" and "partner in crime" Snooki wouldn't be able to drink, stay out late and fall down just for laughs with her like she used to do.
"My partner in crime is here," Deena says. "She just can't be crimeful."
Deena also could have been on edge because Mike professed regret for the way he has treated his housemates the past several summers. It was kind of dramatic. The guys all readily accept his apology (which did seem honest) but the girls are (rightfully) more skeptical than, say, Ronnie Ortiz-Magro, who especially appreciated Sitch's sorry for being "combatitive."
Sitch says the girls can accept his apology or wait and see.
"I'll take the wait-and-see," says the increasingly level-headed JWoww.
We sit through the staples: trips to the gym, the tanning salon, the Shore Store.
Then comes the true test for both Snooki and The Situation: nightfall.
It's nighttime down the shore. It's time to hit the club, get crazy, let loose, etc. Faithful viewers were probably most interested in seeing how Snooki and Mike handled the (pardon the pun) situation.
Article continues below advertisement
Snooki smartly avoided it altogether, instead opting for a dinner date with fiancé Jionni LaValle. We really like Jionni, by the way. He seems sweet, does he not?
"Are you sad you're not at Karma?" Snooki asks.
"I'm having a baby," Jionni says simply.
Ah. We love this response.
OK! GALLERY: THE JERSEY SHORE CAST SAYS GOODBYE: LOOKING BACK AT FIVE SEASONS OF GYM, TANNING AND LAUNDRY
Meanwhile, the usual things are happening at Karma except that Mike is not drinking. To his credit, he doesn't stand around sulking about it, nor does he throw a fit when Vinny Guadagnino initiates a conversation with Chris about furniture.
It is Deena who can't handle the night out. Snooki, with her pregnancy hormones and the realization that her life will never be the same, handles it just fine. Mike, with his fragile sobriety and physical proximity to alcohol and fun, takes it all in stride.
But Deena breaks down. For the second time.
For some reason, she thinks Vinny is making fun of Chris by asking him about furniture, because he works in a furniture store. We can think of far more embarrassing occupations (being a professional intoxicated basketcase comes to mind). Working in a furniture store sounds like an honest living. Vinny swears on his mother's life that he wasn't making fun of Chris. Chris knows this and tells his girlfriend to calm down. Deena continues to cry on the walk home, and is probably still crying right now.
Article continues below advertisement
Chris exhibited incredible integrity during the whole ridiculous charade. It's too bad Deena can't recognize that because she doesn't know what integrity means. She must have missed that day at the bar.
The other person who didn't do so well at Karma was Ronnie. Out of nowhere, he becomes convinced that Sammi is the worst thing ever. And while that might not seem like a big stretch to some viewers, he was needlessly mean to her.
"I have a million girls who can do what you do," he screamed. You might be asking what Sammi said to him, to elicit such a cruel response. We're not sure, but we think she mentioned that she was hungry.
It was uncomfortable to watch him rage at her, was it not? We just wanted to reach into the television, hand Sammi the collected works of Gloria Steinem and tell her to run, run for her life.
Paul "Pauly D" DelVecchio and Mike sucker two girls into going back to the house with them, but Mike soon learns that one of the girls has her period. This scene could have been underscored by the Halloween theme music. Seriously, any girl who is on her period and is still up for a night out is a keeper, kids. You blew it.
Article continues below advertisement
The following day, Snooki asks Shore Store bigwig Danny if he has any other place she could stay, because she's decided the shore house isn't the right place for her at this time. And he does! Crazy.
OK! GALLERY: SNOOKI AND JWOWW SHOP UP A STORM FILMING JERSEY SHORE SPIN-OFF SERIES IN JERSEY CITY!
At dinner that night, there are two big announcements. Vinny says he is going to try and be celibate all summer. This proclamation is met with silence and then a chorus of, "That's stupid!" "Why would someone do that?!" "You can't!"
Luckily, the gang is way more supportive of Snooki's decision: that she's leaving the house, and although she wants to hang out with everyone most of the time, she wants her own place to go back to and relax. Good plan, Snooki.
Lessons learned:
1. Wrap it up! The scenes of Snooki sitting in the quiet restaurant looking sad juxtaposed with her friends tossing back drinks and dancing were heartbreaking in a weird, "Oh, crap, we are going to miss our youth" kind of way. This should totally be played in Sex Ed classes.
Article continues below advertisement
2. Girls who are super clingy drive their boyfriends and their friends crazy. And, if you happen to be on a really popular reality show, you can add everyone else in the world to that list. Girls, girls. Don't be that girl.
3. You should always put fuel in the tank before filling it up with vodka.
Just for fun, let's rate the gang based on who we liked in the premiere, from most to least. Then we'll do the same thing at the end. And we bet it won't be any different.