NEWS
Snoop Dogg Denies Attacking Fan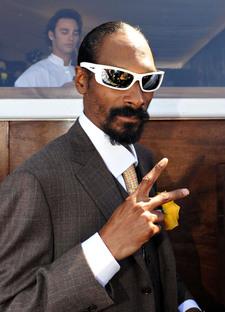 Snoop Dogg says he didn't punch a fan during a scuffle at a show.
Richard Monroe Jr. jumped onstage during a Seattle date in 2005, and was swiftly pounced on by Snoop's security.
Now Monroe is suing the Doggfather for $22 million, claiming the rapper hit him with a "brass-knuckle microphone" during the tussle.
But, according to MTV.com, yesterday Snoop told a judge in Santa Monica that he went straight to his tour bus after Monroe rushed the stage.
Article continues below advertisement
The site reports that Snoop responded to the claims by telling the court room, "The best way for the injuries not to have occurred was for him to stay in his seat and enjoy the show like the rest of the fans."
Monroe's lawyers claimed that Snoop didn't have a clear recollection of the events, but the judge refused to let them ask Snoop if he had taken drugs during the concert.
The concert-goer -- who also claims that he was attacked by bodyguards while onstage, and woke up nude in a pool of blood -- is suing for $22 million in damages.