NEWS
Snoop Dogg, Family Get a Visit From David Beckham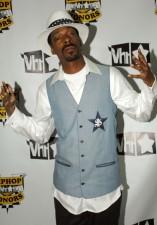 Snoop Dogg loves being a dad to the three children he shares with wife Shante, whom he married in 1997.
The 36-year-old rapper shows off his family in Snoop Dogg's Father Hood, which airs on E! Sundays at 10:30 p.m. Tonight: Sons Cord, 13, Cordell, 10, and daughter Cori, 8, get a soccer lesson from David Beckham.
"Ninety percent of rappers grew up without fathers, but you see ninety percent of those rappers becoming fathers to their kids," he says. "We don't ever get commended for that. We become real men when we get to this level we're at right now."
Article continues below advertisement
He says his kids help him with his music.
"I still feel I'm young. I got kids, and I always play my music for them. I like to hear what they like. They think I'm old, but I think I'm young."
How do his kids act when he's not around?
"They'd better behave!" he grins.