NEWS
Snoop Dogg Turns to Twitter to Grieve Loss of Nate Dogg: "All Doggs Go to Heaven"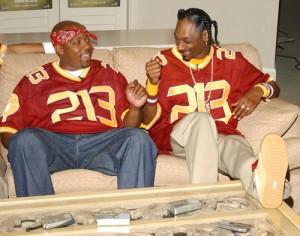 The hip-hop community lost one of its legends yesterday. Snoop Dogg turned to Twitter to grieve the loss of his close pal and music collaborator Nate Dogg, who passed away at the age of 41 after reportedly suffering from health conditions relating back to strokes he suffered in 2007 and 2008.
"We lost a true legend n hip hop n rnb. One of my best friends n a brother to me since 1986 when I was a sophomore at poly high where we met," Snoop Tweeted followed by "I love u buddy luv. U will always b wit me 4ever n a day u put the g n g funk u put the 1 n 213 n u put yo stamp on evrybdy u ever didit wit"
Article continues below advertisement
OK! NEWS: NATE DOGG, HIP HOP STARS, DIES AT 41
Nate, along with Snoop Dogg and Warren G., was a founding member of the hip hop group 213. He is also known for collaborating with Eminem and Dr. Dre.
"I miss u cuzz I am so sad but so happy I got to grow up wit u and I will c u again n heaven cuz u know d slogan" he continued on Twitter, adding the below slogan.
In memory of Nate, check out some of his collaborations with Snoop below.