NEWS
Snoop Goes Soapy for 'One Life to Live'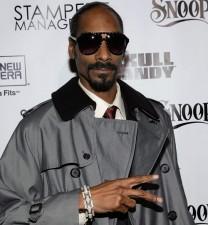 Who knew Snoop Dogg was such a fan of soap operas that he'd make a cameo on One Life to Live not once, in May, but twice! Snoop will be returning to the daytime soap on Feb. 24, starring as himself in an episode featuring his remix of the show's theme song. 
The rap legend will also perform "I Wanna Rock," from his new album Malice N Wonderland during the episode.
Snoop was inspired to redo the theme song after fellow music icon Mary J. Blige appeared on the show in February 2008. For his next cameo, Snoop will act again with Bo Buchanan (played by Robert S. Woods) and Nora and Matthew Buchanan (Hillary B. Smith and Eddie Alderson).
Article continues below advertisement
"As I said when I was here last time, I've been a fan of 'One Life to Live' since I was a baby because my momma always had it on," Snoop explained in a statement released by ABC. "It's cool to come back and hang with Bo Buchanan and the people in Llanview and 'rock out with them."