NEWS
So Long, TRL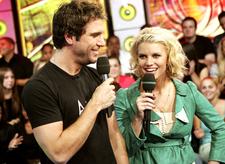 At a time when many shows don't make it 10 episodes on the air, much less 10 years, MTV's TRL (or Total Request Live as it was originally called) is practically a dinosaur.
And now the clock is definitely ticking on the aged TV veterans – the executive producer of TRL, Dave Sirulnick, announced that the show will come to the end this November in a Saturday afternoon two-hour special. While he says the show isn't completely cancelled, the MTV exec says it's time for a break.
Article continues below advertisement
"We want to close this era of TRL in a big celebratory way, and 10 is a great number," says Sirulnick. "And 10 is the number that TRL counted down every single day for 10 years, and we hit this 10th (anniversary) and we thought, `You know what? This feels like the right time and let's celebrate it and let's reward it. And let's let it have a little bit of a rest for a minute.' Let it catch its breath! Been working hard — for 10 years!"
In the beginning the show, hosted by Carson Daly, was a vehicle that seemed to be made for jettisoning pretty young pop stars to the top, and also featured hot celebrities and movie stars.
The last installment will hopefully include many of the "folks who helped make TRL what it is — whether that's Justin (Timberlake) and his guys in N'Sync, the Backstreet Boys, Britney, Eminem — I think we would love to see all of them here."
MTV's newest video show, FNMTV, will return to the channel in November as well, although without the 10-video countdown format of TRL.