NEWS
So Nice to See You Again!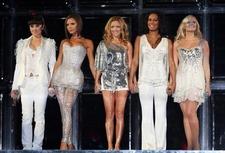 This week the Spice Girls launched their much-anticipated reunion tour to glowing reviews. Fans and critics were thrilled with the Girls' — four of whom are now mothers — performances, even if initial response to the tour was skeptical.
In recent years, it's been reunion city, with The Police, The Pixies and The Eagles, among others, all staging huge (and hugely profitable) comeback tours. With that in mind, OK! presents a list of reunions we'd love to see, and others we'd love to avoid.
Article continues below advertisement
Reunions We'd Love to See:
Real World: The First Season: This past year MTV proved that what happens in Vegas doesn't really stay in Vegas when they brought the cast of The Real World: Las Vegas back to the Palms for a five-year reunion. With the exception of former party-girl-turned-mama Brynn, the sluts were still slutty and the man-whores still man-whores. Instead, we want MTV to bring together the revolutionary first season — Real World: New York. We wonder what rapper Heather B. and farm girl Julie think about the wave of reality TV shows that have spawned in their wake. And now that some of them probably have kids that are part of the MTV generation, what they think of the legacy they've wrought.
My So-Called Life: What might their lives be like 10 years later? Angela designs a line of retro-90's babydoll dresses. Jordan and Ricky fall in love and adopt a baby! Rayanne develops a meth habit and goes through rehab (we all saw that one coming). Bryan Krakow achieves Bill Gates-like success at a Silicon Valley tech firm. And we finally meet Tino!
90210: Yes, we know they've already had one reunion already, where cast members palled around and recalled their favorite on-set moments. But we want to see another one. This time, we want 90210 to pick up lost plots: David Silver's dead friend Scott returns as a foreboding ghost from the past; Brandon and Andrea's secret love child is revealed; and Brenda and Dylan relive their high school prom memories and get it on once more.
Article continues below advertisement
Saved by the Bell: We'd like to return to simpler times: Before Elizabeth Berkley slutted it up in Showgirls. Before Screech's obnoxious stint on Celebrity Fit Club and his embarrassing sex tape. And now that Mario Lopez and Mark Paul Gosselaar have legitimate careers, why not throw them back on the high school set? Plus, we'd love to catch up with Mr. Belding!
Breakups That Should Stay Broken:
The Newlyweds: Jessica Simpson and Nick Lachey — they spent three seasons (er, years) playing a happily married couple on Newlyweds: Nick and Jessica, but underneath it all, it was clear that Lachey suffered from barely contained apoplectic fits every time Simpson opened her mouth. We prefer our Lachey with a side of Minillo, and our Simpson riding solo.
N'Sync: When N'Sync said "Bye Bye Bye" in 2002 it freed up curly-haired cutie Justin Timberlake to release two hit solo albums — and allowed member Lance Bass to come out of the closet. Bass released his memoir, Out of Sync, earlier this year and confirmed that the former-teen heartthrobs had outgrown their squeaky clean boy band image. "We're definitely broken up. It's not a hiatus," he told The Orlando Sentinel. N'Sync knows to quit while they're ahead.
Limp Bizkit: They heralded in a slew of epically bad mid-90's rock jock bands, and for that, we'll never forgive them.
Ally McBeal: Neurotic Ally and her cohorts rambled on narcissistically for five seasons about themselves, and made women believe that being flaky, self-obsessed and kind of crazy was a good idea. Plus, we'll never forgive Ally for the uber-creepy animated dancing baby. Let's leave that in the past.