NEWS
Sofia Vergara Makes David Letterman a "Good Kind of Nervous"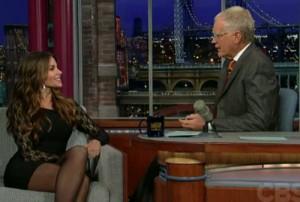 Sofia Vergara turned up the charm for David Letterman Thursday night, sending the late night host into a flutter of nerves! Dave lost his composure on The Late Show as the brunette bombshell's beauty stunned him, and made him stutter a bit!
"I'm sorry, I don't know, I don't know what's wrong with me!" Dave said to Sofia after acting all confused during their interview.
"Have you been drinking?" the Modern Family star quipped back.
Article continues below advertisement
"I wish ... I wish," Dave joked.
"Or maybe you're nervous ... maybe I make you nervous," she said, egging him on.
"You do, how could you not," Dave said bashfully. "But it's a good kind of nervous!"
Once Dave pulled himself together, he chatted with Sofia about her recent trip to the Emmys.
Sofia — who stunned in a coral Vera Wang gown and landed herself on a number of best dressed lists — brought 13 of her family members to the award show.
And they were upset she didn't win.
"They said, 'But your dress was the best, your hair was the best,'" Sofia said, explaining that her family mistakenly thought the Emmys was a beauty pageant.
Sofia, 39, was also in NYC to promote her fashion line.
"Everything you see here," she said, motioning to the black lace dress she was wearing, "you can get at K-mart!"
Catch a clip from Dave's interview with Sofia, via CBS, below!