NEWS
Sofia Vergara May Be Next 'Three Stooges' Star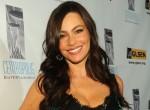 Looks like Sofia Vergara's career is getting cranked up a notch! The star of Modern Family and new face of Diet Pepsi Skinny is in talks to bring in even more laughs in the Farrelly Brothers upcoming remake of the classic comedy, The Three Stooges.
OK! VIDEO: WATCH SOFIA VERGARA IN NOTHING BUT A GLEE THANG
According to The Hollywood Reporter (via Huffington Post), Sofia will probably play the role of a devious woman. She pretends to be the wife of a dying man and tells the Stooges she'll pay them a lot of money if they kill him in his sleep!
Article continues below advertisement
OK! NEWS: SOFIA VERGARA WAS ONCE ADVISED TO LOSE WEIGHT
If she signs on, Sofia will be in good company: Will Sasso will play Curly and Sean Hayes will portray Larry. The movie has been in the works for a while and was previously rumored to star Jim Carrey, Brad Pitt and Benicio del Toro, then that fell apart. Next thing you know, Andy Samberg and Johnny Knoxville were supposed to get roles but those plans fell through as well.
Although this film has been in development for years, if Sofia signs on and all systems are a go, it actually won't even be her first appearance on the silver screen! Sofia will star in the live action hybrid, The Smurfs, this summer and the star-studded comedy, New Year's Eve.