NEWS
Sofia Vergara Says Her 'Ridiculous Boobs" Helped Her Career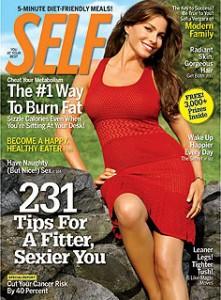 Sofia Vergara's career has skyrocketed since Modern Family took over TV. In the October 2010 issue of Self, Sofia says she credits her "ridiculous boobs" for her career boost.
OK! GALLERY: TINSELTOWN'S TV LEADERS TAKE ON THE 2010 EMMYS!
The 38-year-old actress has made her mark on Hollywood with the help of her voluptuous body. But she has had some help in the form of hair dye.
"I'm a natural blonde," Sofia explains in the new issue of Self. "But when I started acting, I would go to auditions and they didn't know where to put me because I was voluptuous and had the accent — but I had blonde hair."
Article continues below advertisement
"It was ignorance: They thought every Latin person looks like Salma Hayek. The moment I dyed my hair dark, it was, 'Oh, she's the hot Latin girl.' I loved it," she says. "I'd always felt a little 'too much' as a blonde, like a big-mouth version of Pamela Anderson. Being brunette toned me down a bit."
OK! NEWS: SOFIA VERGARA ON RUNNING NAKED — "I'M NOT AFRAID OF ANYTHING"
Toning down her look is what Sofia was looking for even as a young teen, but Sofia was grateful for her assets in the end.
"When I was 13, I got these ridiculous boobs. I wanted surgery," Sofia shares. "I told my mom, 'As soon as I'm older, please take these boobs away.' She said, 'Sofía, shut up. When you're 18, it will be different.' I was like, 'Why would I want these huge t—? I'm a 34DD.'"
"It's hard to dress. No matter what I wear, I look like a stripper," she adds. "That said, I'm grateful I have them, and honestly, they've helped me a lot in my career. And I've always felt sexy."