NEWS
Sol y Sombra to Stephen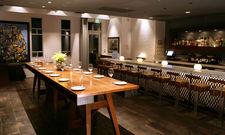 Like many celebs that seek solace at spas in Scottsdale, I stayed there an extra few days to recover from "exhaustion." After leaving the ER we went back to my friend Robyn's house for a slumber party — take out, Knocked Up on DVD and girl talk (coupled with antibiotics and some pain killers) was the perfect prescription to feel better by morning.
The next night I even rallied and finally made it up to dinner in North Scottsdale at Sol y Sombra, a restaurant a friend of mine from college — who was promoting local clubs the same time I started writing about them — opened about 18 months ago. I like a light, clean dinner before I go out so that I"m not in food coma by the time I hit the club and for that, this restauarant is ideal. It excels in tapas-size portions of Spanish-influenced fare that was great for passing and sharing - and for people like me that rather 'taste' everything than have to make a decision on just one dish. Along with a nice bottle of wine or pre-show cocktails, the setting is prime for a leisurely dinner with friends or bite before hitting the town.
Article continues below advertisement
After dinner I dragged my friends to a dive bar to see Stephen Ashbrook , a guy who had a regular gig at the music bar I worked at in college. They grumbled on the way in, "Should have worn jeans" (we were wearing dresses), "You sure you don't want to go to Six? (a trendy club in Old Town Scottsdale) blah, blah, blah, but I was resolute, and recovering, so I insisted on the acoustic show at the less than chi-chi bar.
I love Stephen's music and still listen to it on my ipod when I wander around NYC. Stephen even has some celebrity fans -or, one that I know of. A Sunday night many, many years ago, a few of us were hanging out at the bar where I once worked watching Satellite (the band Stephen fronted at the time) and when it ended, this guy at the bar said he wasn't ready to go home and wanted to hear more. He convinced the band to have after hours and we drank and played music until the early hours of morning.
The guy was Vince Vaughn, not long after the release of Swingers. I kissed Vince that night, although he was so drunk he had to be carried out, literally — and I just did it to make my crush who was there jealous.