NEWS
'Something Borrowed' Author Emily Giffin Says the Film "Got It Right"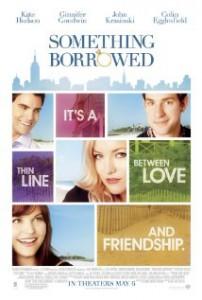 If the author of the book says the film "got it right" then we think that's good sign that we'll love watching Something Borrowed this weekend! Emily Giffin says fans won't be disappointed by the film based on her book.
OK! VIDEO: WATCH KATE HUDSON & GINNIFER GOODWIN'S SOMETHING BORROWED TRAILER!
Something Borrowed hits theaters today starring Kate Hudson, Ginnifer Goodwin, John Krasinski and Colin Egglesfield.
Article continues below advertisement
Emily told MTV's Hollywood Crush that she was "pretty involved in every aspect of the movie."
"More than anything, the casting was an incredible relief to me. They got it right. It's the characters that are the most important," Emily said. "The chemistry between these actors is so great."
Their chemistry even tricked the author into not knowing how the story ends! Good news for fans who have read the book.
"About two-thirds of the the way through the movie I had this feeling, this tension of wanting to know what happens. I was nervous for the characters," she revealed. "I realized in that moment I'd sort of forgotten that I was the writer of the book, and I was so lost in the performances I forgot while I was watching it that I wrote the book!"
OK! GALLERY: KATE HUDSON BORROWS GINNIFER GOODWIN'S GRUB
And Emily thinks guys will enjoy this film too — so bring your boyfriends with you this weekend!
"I think men are gonna love it because it's funny and it's relatable," Emily explained. "People sometimes say romantic comedies belongs to women, but that's like saying relationships belong to women. Men want to see stories about relationships."
And Emily is very happy with the final result of the film.
"We wanted to make the readers happy," she said. "The tone of the book doesn't get lost...they did a really good job. It's a smart romantic comedy."