NEWS
Sorry Kim Kardashian And Snooki: Reality Stars Not Welcome on Hollywood Walk of Fame!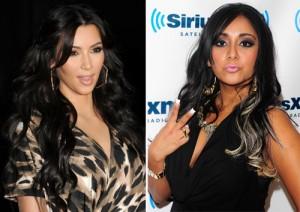 While millions of Americans may laugh and cry with them on TV, reality stars are not welcome on the Hollywood Walk of Fame. The official organization addressed the issue on its Facebook page, stating that it wants to keep The Walk all about movie and television stars.
On Monday, the organization posted a status update on its official Facebook page that said, "Someone asked if we give reality show characters stars? Hell to the No!"
Article continues below advertisement
So it looks like Snooki, Kim Kardashian, Paris Hilton, Nicole Richie, The Situation, Kate Gosselin and all the other beloved reality stars out there aren't getting any love on the famed strip of sidewalk.
"That's my personal opinion as the caretaker of the Walk of Fame for 24 years," Ana Martinez, vice president of media relations for the Hollywood Walk of Fame, told E! News."I'm very protective. And people are kind of in agreement."
Ryan Seacrest does have a star, but his accomplishments and credentials soar beyond American Idol host.
Martinez did make clear to E! that if the Kardashian sisters continue to have further accomplishments beyond reality TV, they will be reconsidered for star placement.
What do you think? Should reality stars have stars? Sound off in the comments!