NEWS
SOURCE: Alleged Tiger Mistress Was Member of Sugar Daddy-Seeking Web Site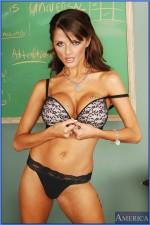 Wow... Tiger Woods sure can pick 'em, can't he? Not only are some of the baker's dozen of ladies porn stars, but it looks like one of these adult film actresses, Joslyn James, was openly on the hunt to land a rich man to support her, even going so far as to place an ad on a site that caters to gold-digging "sugar babies."
A source has leaked a screengrab of what they claim to be Joslyn's now-removed profile page on a site called seekingarrangement.com, which bills itself as the "elite sugar daddy dating site." In the profile, a 32-year-old blonde from Las Vegas who looks strikingly similar to Joslyn says she's looking for either a "Sugar Daddy or Sugar Mommy" for "help with rent and bills."
Article continues below advertisement
According to the source, the profile was taken down this week, shortly after Joslyn was outed as one of Tiger's many (alleged) mistresses. So is it her? Look at the screen grab below and judge for yourself.