NEWS
Source: Britney "Feels Duped By People Around Her"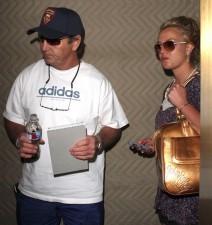 Pop superstar Britney Spears has been left distressed following a judge's decision to extend her father's conservatorship powers over all her financial and professional matters, a source close to the singer reveals exclusively to OK!. "Britney is very upset about the conservatorship being extended," a source close to the family told OK!. "She feels very duped by the people around her."
Brit's dad, Jamie Spears took control over his daughter's affairs in early 2008 after her second forced hospitalization, leaving Brit without say in her finances and career choices.
Article continues below advertisement
Under the ruling, Papa Spears will continue to receive a $16,000-a-month payment for his duties which involve making all personal, financial and medical decisions for his daughter.
His co-conservator, Andrew Wallet, was paid $174,569.10 for services rendered between July 2009 and November 2009.
The next hearing is set for Jan. 14.