NEWS
Source: Gary Shirley Verbally Assaulted by New Girlfriend & Ex Amber Portwood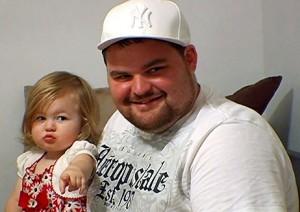 Teen Mom's Gary Shirley, the father of Amber Portwood's daughter Leah, has found himself a new girlfriend, Ashley, but his problems with Amber haven't gone away and instead may have doubled!
OK! NEWS: TEEN MOM'S AMBER PORTWOOD — "I'M NOT PREGNANT"
A source close to Gary tells OK! that the Teen Mom star recently had a rough night when he was confronted by his current girlfriend Ashley and previous fiancée Amber at his home.
Article continues below advertisement
"This odd tag team (I call them 'Double A') of Amber and Ashley is there confronting him about being sexually active and whatnot," the source reveals.
The insider says Gary admitted to Amber, in front of Ashley, that he "still has feelings for her" to which Amber screamed, "You're not helping the situation, Gary!"
OK! VIDEO: TEEN MOM 2 TRAILER RELEASED!
According to the source, the conversation got heated and claims that Amber hit Gary.
Amber has recently been charged with two felony counts and one misdemeanor of domestic violence and battery, for a previous altercation with Gary caught on MTV's cameras.
But Gary's new girlfriend seemed to be on Amber's side. The source adds to OK! that Ashley went on to "slam Gary about both his image and feelings."
OK!'s source says both left together to go back to Amber's place, but later Ashley asked if she "can come by and pee on her way home."
Article continues below advertisement
Once Ashley arrived, the source tells OK! she "changed and made herself at home with some Easy Mac and they continued to bicker."
To prove to Amber that Ashley is "playing both sides," the source says Gary took a picture of Ashley sitting in his chair the same night.
OK! NEWS: TEEN MOM AMBER PORTWOOD DOES NOT HAVE CUSTODY OF LEAH
Gary may have found a new girlfriend, but it sounds like the drama in his life may have doubled!
The source adds that the Teen Mom star will be spending New Years Eve in NYC with his buddies to watch the ball drop. Maybe some guy time is just what he needs!