NEWS
Source: Rihanna Is A Clingy Girlfriend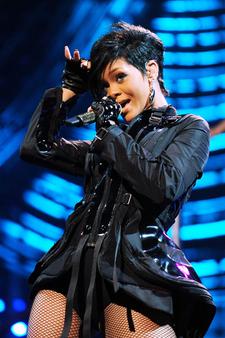 Rihanna might seem like a pretty tough lady in public.
But off-stage, it's a different story: the Barbados-born beauty is a clingy girlfriend who can't bear to let boyfriend Chris Brown out of her sight.
"She has to have Chris around her 24/7," a source close to Rihanna, 20, tells OK!.
"If Chris is with her on a photo shoot and steps away for a second, she starts saying, 'Where did he go?'"
For her part, the Umbrella singer admits that being apart from her loved ones is difficult.
Article continues below advertisement
"My biggest challenge is being away from my family and friends, and all the people I love and I'm used to being around," the Grammy winner tells OK!.
"It's hard for me to just throw that all away and be by myself."
The source agrees. "If Chris isn't with her, she wants to call and check in every second. She's crazy about him."
"Rihanna constantly talks about Chris," says the source.
So no doubt the 19-year-old Kiss, Kiss singer's phone was ringing off the hook after he was photographed on Jan. 31 being mobbed by scantily-clad girls at Twenty One Club in Dublin, Ireland, during the last leg of his European tour!