NEWS
Sparks: 'My Career Isn't Over!'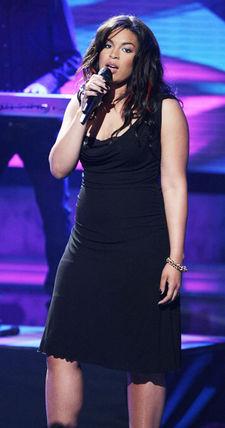 Jordin Sparks has said she laughed at the rumors that her career was over because of a recent vocal cord injury -- and says she should be back on stage "in no time".
But last year's American Idol winner admitted to MTV News that the acute vocal hemorrhage could have wrecked her voice if she hadn't had it treated in time.
In an email (her doctors have told her she isn't allowed to talk for a few days!) Jordin said that she will be back on the Alicia Keys tour very soon.
Article continues below advertisement
On Saturday May 19, the reigning AI champ had to cancel her support slot on the first night of Keys's As I Am tour and has missed all the shows since (though Keys has canceled some of them due to her own voice problems).
Jordin said that her voice gave out in the days leading up to the opening night at the Bryce Jordan Center in Pennsylvania.
"I've strained my vocal cords before, but people everyday do that," she wrote to MTV News. "But I got to the point where it actually felt like there was a block on my voice and it wouldn't reach any higher."
"I knew something was seriously wrong when I tried to rehearse and my voice wouldn't work. THAT was scary. I've never dealt with this type of injury before; I could literally feel the difference," she said.
"My left vocal cord was bleeding, and I knew I had to get it checked and take care of it."
Her doctor immediately put Jordin on "full vocal rest", which means no talking, singing or even laughing!
Article continues below advertisement
While she admitted for the first time that it was diagnosed as a hemorrhage, Jordin says she laughed (against doctors orders, apparently) at reports that her career was over.
"They were saying I would never sing again, and I knew I could because, well, it's my throat," she wrote.
But the 18-year-old added, "My career COULD HAVE BEEN in jeopardy if I hadn't done anything about it. But I knew something was wrong and that I needed to get it checked out."
She says that doctors says that the injury is now almost totally healed, but she's going to take another "few days" off just to be safe.
Jordin hasn't set a date to rejoin the tour, but says she'll be back within days.