NEWS
Speidi Divorce May Not Happen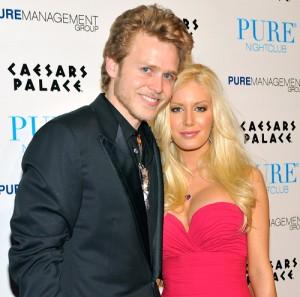 In case you were worried, Speidi's relationship looks like it's on the road to recovery. The reality TV couple that is Spencer Pratt and Heidi Montag may have staged a faux divorce as it now looks like they will be reconciling after an eye-opening trip in Costa Rica — involving airport detainment for illegal weapons.
Heidi stood by her man after he was detained at an airport in San Jose, Costa Rica for illegal arms possession, and Spencer is now hopeful that Heidi may drop her divorce papers.
Article continues below advertisement
"It was clear we're soulmates. I don't see any reason we can't get back on track," Spencer told the Associated Press — via the Huffington Post — upon his arrival in L.A..
Spencer was in Costa Rica for a jungle retreat, removing himself from the spotlight in hopes of proving to Heidi that he was not obsessed with fame.
Heidi stayed at a nearby villa.
According to the AP, Spencer brought the 9MM and 45MM handguns and ammunition with him as protection, and since he arrived in Costa Rica on a private jet, the weapons weren't an issue until his return flight on a commercial airline.
It looks like Spencer's plan to woo back his wife may have worked, according to Heidi's most recent Tweet:
The message marks a sharp contrast to Heidi's past Tweets, bashing Spencer.
Spencer told the AP his next move to win Heidi back is to "sweep her off her feet" for her 24th birthday on Wednesday.