NEWS
Spencer & Heidi Married — For Real!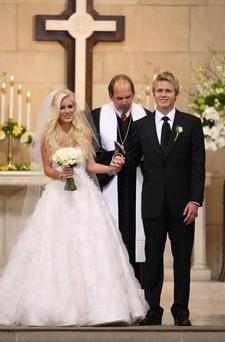 Its official! Really! Not kidding — Heidi Montag and Spencer Pratt were married on Saturday at Westminster Presbyterian Church in Pasadena, Calif.
The ceremony got off to a late start after generator problems delayed things for about an hour. Also, there was a behind-the-altar reconciliation between Heidi and estranged BFF Lauren Conrad that occurred only moments before the couple said "I do!" In front of a crowd of approximately 300 guests including family, friends — and OK!
Article continues below advertisement
The bridal party, including Spencer's sister Stephanie Pratt, wore yellow while the groom and groomsmen wore tuxedos. Heidi's dress was a more demure version of Madonna's "Like A Virgin" wedding dress, and the bride appeared to be sprinkled head to with diamonds — earrings, layered necklaces and cuffs.
The rest of The Hills cast all joined in the festivities, with Audrina Patridge and Lo Bosworth the first to arrive and Lauren the last one in. Also making an appearance at the wedding was Kristin Cavallari, who was once embroiled in a bitter feud with LC and who has also dated Brody Jenner. Though it was rumored Kristin would arrive to the ceremony with Brody, she attended alone and sat on the groom's side of the aisle, next to Audrina's on/off boyfriend Justin Bobby. Meanwhile, Brody and girlfriend Jayde held court with Audrina and LC on Heidi's side.
Following the ceremony, guests headed to Social in Hollywood for a less-than-intimate wedding reception that lacked one thing — the actual Mr. and Mrs. Pratt!
While the happy couple were expected at the party, the only notables at the party were the sisters of the the bride and groom and the couple's parents.
One Montag family friend, who admitted to not knowing Spencer all that well, told OK!, "Heidi goes for what she wants and she has a way of making it work for her, whether we like it or not!" So why did this family friend come to the wedding? "I'm one of the friends who actually knows and loves her"
Article continues below advertisement
Sources tell OK! that the newlyweds ditched out on their official reception and headed straight to Sidebar at the Beverly Wilshire, where they are staying in the Presidential suite for the evening.
As for after the wedding, no plans yet for where the couple may honeymoon, but they are going to be featured on NBC's I'm A Celebrity... Get Me Out of Here! starting on June 1. There are also plans for Speidi to keep milking the MTV reality thing, whether or not the couple will continue to be on The Hills.
"He's got a lot of ideas," a source told OK! today at the reception. "And one of them will get sold, they've got a long future"
We can only hope.
Congratulations to the happy couple!
By Wynter Mitchell