NEWS
Spencer Not Ready to Rumble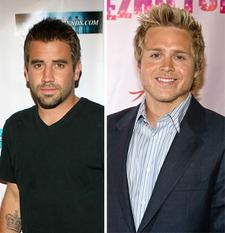 It is just exhausting being a famous reality TV star these days, what with getting married in front of all your loved ones, favorite paparazzi and ever-present TV crew, releasing a rap single and cultivating a robust, flesh-colored beard, so no, Jason Wahler, Spencer Pratt doesn't have time to rumble with you just now.
After TMZ camera crews captured Spence's old nemesis Jason issuing him an open invitation to fight anytime, while dropping anti-gay slurs, Heidi Montag's better half just isn't going to rise to that challenge.
Article continues below advertisement
"If I were to beat up every homophobic racist loser that challenged me to a fight – I wouldn't have time to be the most famous person in the world," Spencer tells TMZ in a statement. "I'll pray for Jason Wahler."
Guess Jason'll have to keep waiting for that second fifteen minutes of "fame."
OK!'s SPEIDI WEDDING GALLERY: