NEWS
Spencer Pratt Finds Sex Tape Featuring Heidi Montag & Karissa Shannon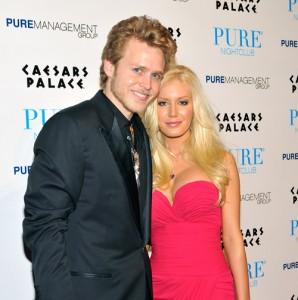 Former Hills star Spencer Pratt claims to have discovered a new sex tape with soon-to-be ex-wife Heidi Montag and Hugh Hefner's ex-girlfriend Karissa Shannon.
According to sources at TMZ, Spencer found the girl-on-girl tape when he was moving some of his belongings out of Heidi's Malibu home.
SPENCER PRATT SHOPPING A SEX TAPE FEATURING HEIDI?
Karissa, a Playboy Playmate, tells TMZ that the tape does exist, but she doesn't want it out there and will sue Spencer if it comes out.
Article continues below advertisement
She also claims that Spencer doesn't even have possession of the tape.
HEIDI FILES FOR DIVORCE FROM SPENCER
Spencer has been trying to shop another adult video featuring Heidi to Vivid Entertainment.