NEWS
'Spider-Man: Turn Off the Dark' is "Boring" & "Too Cautious" According to Early Reviews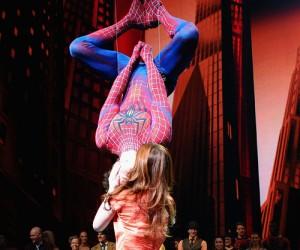 After taking a three-week hiatus from the stage to reboot production, Broadway's much-talked-about new musical Spider-Man: Turn Off the Dark made its official debut Tuesday. The debut comes after months of ridicule from the media and exit of original director Julie Taymor. So what are the critics saying about he $70 million musical and its recent overhaul?
Entertainment Weekly listed a round-up of reviews from Tuesday's opening show, and the publication's own Thom Geier gave the show a pretty average rating: "Spider-Man gets full marks for spectacle — Daniel Ezralow's aerial choreography and George Tsypin's sets deserve a curtain call all their own — but only partial credit as musical theater… It may be an admirable work of revision, but it's an unsatisfying meal, like one of mom's end-of-the-week casseroles made of leftovers she couldn't bear to toss."
Article continues below advertisement
The New York Times' Ben Brantley was also left unsatisfied, but did recognize that the show was "no longer the ungodly, indecipherable mess it was in February. It's just a bore."
"If I knew a less-than-precocious child of 10 or so, and had several hundred dollars to throw away, I would consider taking him or her to the new and improved Spider-Man," he added.
MORE ON:
Spider-Man: Turn Off the Dark
And Rolling Stone's critic Evie Nagy echoed similar sentiments, calling the reboot "too cautious."
"The show's stunts are thrilling, and fun, and despite everyone's palpable fear of wire-snapping catastrophe, there aren't nearly enough."
A surprise at the end of last night's show was when ousted director Julie Taymor returned to thank everyone in the cast and crew.
U2 frontman Bono — who wrote the music for the show with bandmate The Edge — told the director she looked "hot."
He received a standing ovation and proclaimed, "We had to save Spider-Man because Spider-Man has to save New York."