NEWS
Splitsville for Heath & Michelle?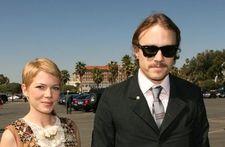 While some have been quick to ring the death knell of the superstar marriage of and , OK! learned recently that the pair, who met on the set of their Oscar-winning film Brokeback Mountain, had turned to self-help books and couple therapy to calm their tempestuous relationship.
"They've had problems for the past year," an insider tells OK!. "The last time they were in L.A. together, they stayed in seperate hotels." Heath was holed-up at the Chateau Marmont, telling folks his marriage was on its last legs, but that he was trying to keep it together for the sake of their daughter, Matilda.
Article continues below advertisement
Heath has been in Chicago filming The Dark Knight, a sequel to 2005's Batman Begins, all summer, but according to a source, Michelle has not visited him even once. And as reported in OK!, the Oscar-nominated actor, who had previously been engaged to , hit a local Windy City bookstore to pick up some literature on saving his relationship. He even sent Michelle a copy of one book, flagging the section about long-distance relationships, asking her to pay special attention.
Among those close to the couple, there's still hope they'll be able to revitalize their love life and stay together. "Heath and Michelle are strong believers in a united family front," one source explains to OK!. "There hasn't been an actual conversation saying 'Let's break up.' It's more of each agreeing to a trial separation. They have mutual admiration for each other and are committed to Matilda."