NEWS
Sponsors Lose $12 Billion by Backing Tiger Woods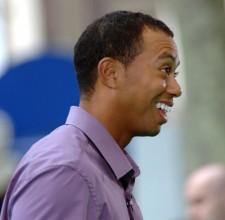 The sponsors who decided to stick by Tiger Woods while he's in the rough may want to rethink things after they see the results from a recent study, E! News reports. Apparently backing Tiger right now is a risky business decision, as it could cost the companies up to $12 billion.
According to a recent study conducted by two economics professors from the University of California at Davis, continuing to sponsor Tiger could get expensive.
Article continues below advertisement
The professors looked at stock market returns for Tigers' sponsor companies in the 13 trading days that immediately followed the car crash scandal and ending a week after Tiger announced he would be leaving golf indefinitely.
The sponsors who suffered the most were Nike, Gatorade and EA Sports losing $6 billion, after they made statements to support Tiger despite his indiscretions.
These companies could be suffering even worse financially than Tiger, who normally makes $100 million per year.
Accenture is breathing easy right now as they managed to avoid backlash from their Tiger association, since their profits don't depend on public opinion.