NEWS
Spotted!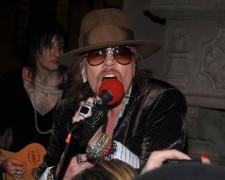 Gramercy Park Hotel kicked-off Fashion Week with a "secret show," part of the Rose Bar Sessions live concert series presented by DeLeon Tequila, with legendary band Guns N' Roses performing live on Valentine's Day. 500 roses were strategically placed around the bar, over the fireplace and a special bouquet was given to Mickey Rourke to give to his new fiancé when they arrived. But it was Russell Simmons, Sophia Bush, Josh Lucas, Adrian Grenier, Ryan Phillippe and the rest of the hand-picked hundred who got to see the biggest ROSE of them all....Axl (pictured), who performed classics like "Welcome to the Jungle and "Knockin' On Heaven's Door," at the secret show.
Article continues below advertisement
Pop star Ke$ha peaking her head into Pier 59 Studio's 15th Anniversary in New York to take a look at the event's live tiger and baby lions on February 12th.
Kelly Osbourne, Mena Suvari and Toby Kebbell partying at the G-STAR after-party at NYC hotspot, Tenjune, on Tuesday, February 16th.
On Monday, February 15th, renowned American designer Zac Posen celebrated his Fall 2010 collection with an after-party at NYC hotspot The Rose Bar at Gramercy Park Hotel with family and close friends including Russell Simmons, Maggie Rizer, J. Alexander, Holly Graves and Grammy winning hip-hop violinist Miri Ben-Ari, among others.
Victoria Beckham celebrated her Fall 2010 "Dresses" collection with a private dinner for her fashion team at Gramercy Park Hotel's Roof Club & Garden on Monday night.
On Tuesday February 16th, British designer Alice Temperley celebrate her Temperley London Fall 2010 collection with a private cocktail party at The Rose Bar at Gramercy Park Hotel where guests including Josh Hartnett, Kings of Leon front man Caleb Followill and his girlfriend/Victoria's Secret model Lily Aldridge, Bee Schaeffer and Poppy Delevigne enjoyed specialty SVEDKA cocktails. Former Calvin Klein model, Jamie Burke and his band Bloody Social treated guests to an intimate impromptu performance around 1:30 AM.
Article continues below advertisement
On February 12th, Entourage star Adrian Grenier was spotted checking out LES hot spot Spitzer's Corner (101 Rivington St., NYC)'s vast craft beer selection and bar scene with a male buddy. Other recent celeb Spitzer's sightings have included Kirsten Dunst and Diane Kruger.
Pamela Anderson and Richie Rich debuting their single "Hi" at the Richie Rich A*MUSE Fashion Show in NYC.
Milo Ventimiglia sporting a beard when spotted handing out awards at the 2nd Annual One Show Entertainment on Wednesday night at the Egyptian Theater in Hollywood.
Jay-Z and Beyonce spending a leisurely afternoon poolside in at Gerber bars WET and Red2One in Santiago, Chile.
Hollywood power couple Warren Beatty and Annette Bening sipping Pinot Grigio at Whiskey Blue in Los Angeles.
Heidi Klum saying, "I'll eat like, popchips," backstage at the Red Dress Show in NYC.
Jason Biggs chowing down on a turkey wrap during lunch at Andaz West Hollywood.
Miss J. Alexander hitting the Robert Verdi Lounge during NY Fashion Week, and trying out a new ABSOLUT BERRI AÇAÍ Sour cocktail.
Article continues below advertisement
Molly Ringwald working out with a trainer at Golds Gym in Venice.
Benjamin Bratt having breakfast at Kate Mantilli in Beverly Hills.
Tori Spelling and friends at Floral Art on Abbott Kinney having a flower arranging class for an upcoming episode.
Kim Raven, laughing and being very friendly with the staff at Intelligencia on Abbott Kinney in Venice.
Julia Roberts having lunch today with a friend and one of her boys at Rose Cafe, in Venice.
Lil Jon celebrating Mardi Gras performing with DJ Cobra in front of 5,000 fans at the biggest nightclub in North America, The City, in Cancun, Mexico.
In Las Vegas, Audrina Patridge and Ryan Cabrera (pictured) went to the AG Jeans soiree and checked out Sugar Factory's couture lollipops at their new store at The Miracle Mile Shops.