NEWS
Spotted!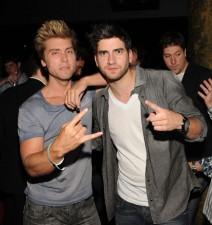 Zac Efron, Vanessa Hudgens & Lance Bass @ Haze Nightclub for Ryan Rottman's birthday.
Dancing With The Stars Karina Smirnoff at Fashion: Refocus at BOXeight Studios for L.A. Fashion Week last night where designers Isabel Lu, Skingraft, Funktional, and Goldspun were unveiling their Fall 2010 collections.
New mom Ashley Scott celebrated her first week back on set at NCIS, showing off her svelte physique in Buffalo's Lara Jeans and Divison-E's sheer shirt at the Brand Equity Showroom event that closed L.A. Fashion Week.
Article continues below advertisement
Madonna and Jesus Luz at SL in NYC.
Michelle Obama and her daughters shopping at Dylan's Candy Bar in NYC. The girls left chewing Bubble Yum Bubble Gum.
Adrian Grenier playing chess in the Living Room at the W Hotel San Diego.
Anna Kendrick and Jamie Lynn Sigler at Coco de Ville Fridays in L.A.
True Blood's Alexander Skarsgard wearing Levi's X Opening Ceremony shirt while at Doughboys Bakery & Cafe in L.A. with Kate Bosworth.
Leonardo DiCaprio smoking a Camacho Cigar outside of the Soho House L.A.
Courtney Love at SPIN's annual SXSW party at STUBB'S BBQ in Austin.
Vanessa Williams buying jewelry at the Shery Shabani Trunk Show at the Soho House NYC.
Vin Diesel at Avenue in NYC.
Anne Hathaway having a Brussels Sprout Salad and sharing a Venice Beach Burrito while lunching with a girlfriend at Santa Monica restaurant LGO.
Drew Barrymore sipping on organic vegetable juice at all-natural West Hollywood market, VP Discount.
Article continues below advertisement
Rihanna drinking Patron at Playhouse Hollywood.
Cisco Adler at Oakley's Best of All Worlds SXSW Showcase in Austin.
Cindy Margolis and her cast of suitors from FOX Reality's series Seducing Cindy hosting a party at Guy's North in Studio City, CA.
Modern Family's Nolan Gould playing in the pool with his family at the Grand Wailea Resort.
Gerard Butler having a grilled chicken quesadilla at the Hard Rock Cafe in Hollywood before heading off to the premiere How to Train a Dragon.
Randy Jackson introduced Muhammed Ali at Muhammed AlI's Celebrity Fight Night XVI in Phoenix, AZ.
Rex Lee having dinner at STK Miami Beach.
Kate Hudson with son Ryder on a shopping trip to the Malibu Country Mart on Sunday. They stopped into Madison Gallery, where Kate was eyeing a pair of Balmain shoes.
Leanne Rimes shopping alone at Madison in Westlake, CA.
Snoop Dogg drinking AriZona Iced Tea to help pump him up before going on stage at SWAGG Presents Perez Hilton's One Night in Austin during the SXSW.
Teri Hatcher arrives in Neil Lane Jewelry at The 24th Genesis Awards. She wore diamond and platinum earrings, diamond and platinum rings and bracelets.