NEWS
Spotted!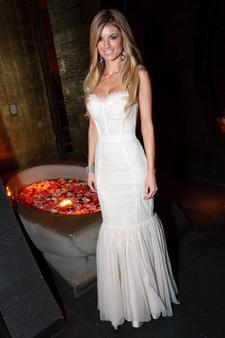 The celebs flocked to Las Vegas last weekend and TAO welcomed them with open arms!
Saturday night Taylor Swift, in town for the awards, arranged a special dinner at the hot spot for her band and crew. The country star glowed in a black one shoulder dress, silver Louboutin heels and a silver Swarovski clutch. Dining on signature items from the chef, the group was extremely polite.
Returning to TAO for his pre-show dinner for the third night in a row was David Spade. After dinner he popped over to say hello to Taylor, reuniting after their meeting at the Grammy's last year. Taylor introduced him to her band and the comedian extended an invite to all to come see his show at The Venetian.
Article continues below advertisement
Nearby, actress Kaley Cuoco, who stars in The Big Bang Theory on CBS, was very fashion forward as she dined with a friend. Clad in leggings and a leather jacket she reminisced about celebrating her 21st birthday at TAO two years ago.
Also at TAO were Keeping Up with the Kardashians stars Bruce and Kris Jenner. The duo, in town for business, dined with friends.
Spotted upstairs in the VIP moat area of the nightclub were Jamie Foxx, in a cream suit, and Flavor Flav, decked out in a black blinged out jersey and his signature clock necklace.
Sunday, the fun continued!
Starting the day off was Avril Lavigne at TAO beach. The rocker, with her best friend and a few others, made it over in the afternoon for a cabana and a few Grey Goose cocktails. She and her bff had fun putting on some fake TAO beach tattoos to go along with her real ones. After a few hours there and a quick change the crew came back to LAVO for a second night, they love the new Italian based menu so much the came back for seconds. After dinner the crew made their way to the club where they took a table on the stage in a secluded corner where they could party and let loose. They especially loved the sax player that came out to play along with DJ Vice...
Article continues below advertisement
That night it was celebrity central at TAO and an ecclectic group it was!
After the ACM awards the stars poured in. First to arrive was Matthew McConaughey and girlfriend Camila Alves, Matthew in classic good ole boy attire was in stark contrast to Camille's skin tight black satin dress with sheer cutouts in all the right places.
Shortly after their arrival Victoria's Secret supermodel Marisa Miller, looking stunning in a one of a kind Dolce and Gabana cream gown made especially for her, made an entrance with her husband and a few friends. They joined Matthew and Camila. They all met earlier that night at the awards and seemed to have become fast friends.
Last to arrive and on the heels of the previous night's surprise performance at TAO was Jamie Foxx. The academy award winner as always came with a large entourage of family and friends, including his daughter. Jamie treated her to a very special day at the awards. They sat just across from Matthew's group and made sure to stop by and chat with them, but his main focus was clearly spending quality with his daughter and family as this was her first visit to Sin City.