NEWS
Spotted!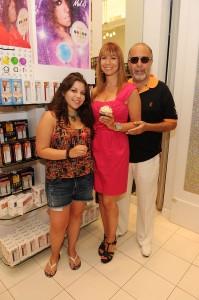 Jill Zarin (pictured) at the Sugar Factory candy store in the Miracle Mile Shops at Planet Hollywood in Las Vegas with her husband, Bobby, and daughter, Ally.
Khloe Kardashian checks out the new Sprint HTC EVO phone at her home in Los Angeles.
Cory Monteith and Mark Salling of Glee stopped into Katsuya Brentwood for a quick dinner after the Teen Choice Awards.
Russell Simmons was on-hand, enjoying O.N.E. Coconut Water as the Red Cross honored LL Cool J at the Red Hot Red Cross cocktail reception in Sagaponack, NY on Saturday afternoon.
Terri Seymour wearing Neil Lane jewelry at the Teen Choice Awards on August 8.
Jacinda Barrett arrives in Neil Lane jewelry at the premiere of Middle Men.
Kim Kardashian carrying KOTUR's d'Abo Ayers Snakeskin clutch in black at the 2010 Teen Choice Awards in Los Angeles.
Russell Brand running out of the Vivitar booth at the Backstage Creations Celebrity Gift Retreat at the Teen Choice Awards to catch his fiancee Katy Perry's opening act. He was quite generous to fans signing autographs and also picking up a Vivitar 850WHD to sign and auction off in a charity with proceeds benefitting a young girl with cancer.
Article continues below advertisement
At the Backstage Creations Celebrity Gift Retreat at the Teen Choice Awards Bruno Mars and Travis McCoy feeling like Billionaires backstage picking up Vivitar 850WHD underwater cameras. The pair were joking around and laughing together, talking about their upcoming tour with Maroon 5.
Star of ABC Family's Pretty Little Liars, Shay Mitchell wearing David Yurman's Ball Stack Rings to the 2010 Teen Choice Awards in Los Angeles.
Justin Timberlake and Jessica Biel celebrated friend Rob Knox's birthday at Playhouse Hollywood on Saturday night. The couple drank Grey Goose & Pineapple cocktails and 901 Tequila (JT's brand) on the rocks. Onlookers say they were super affectionate, kissing and dancing all night.
Twilight's Alex Meraz stripped down to nothing to get an EPIONE spray tan at the KIIS FM's Teen Choice Lounge.
Nikki Blonski, Bobby Brown, Quinton Aaron (The Blind Side), Tenley Molzahn (The Bachelor/Bachelor Pad) and Sharni Vinson (Step Up 3D) attended KIIS FM's Teen Choice Lounge at W Los Angeles-Westwood to pick up goodies including Denimocracy Denim and Junk Food t-shirts.
Randy Jackson buying the Jack Black On-the-Road Travel Pack at Nordstroms in L.A.
Lo Bosworth stopping by the taping of So You Think You Can Dance?
Rosario Dawson and Jessica Alba hanging out together in the green room at the Voto Latino and Mun2's "United We Win" PSA.
5 REACT gum asked celebs backstage at the Teen Choice Awards who their "fantasy kiss" would be and Twilight's Ashley Greene saying Johnny Depp.
Glee's Amber Riley capturing her fellow castmates on set with her Kodak M580 digital camera.
Jennifer Love Hewitt shopping at Juicy Couture Oak Street in Chicago.
Neve Campbell stopped by amongst a big group to enjoy a few HUB51 faves before catching the late-night Phoenix concert at House of Blues.
Ed Westwick and Jessica Szohr in the Cabo Wabo Tequila Lobby Lounge at the Hard Rock Hotel in Chicago during Lollapalooza.
Matthew Morrison recently surprising students at his former school the Orange County High School of The Arts and allowing Cambio to follow him as he showed fans where he got his start, talks with the teacher that he says inspired his Glee character Mr. Shue, shares what he has learned and accomplished with students, and gave back to the school by donating 15k.
Shania Twain meeting her stylist Frankie Foye at the Hair Rules salon in NYC.
Juan Barbieri from The Bachelorette Season 5 and Michele Kujawa from The Bachelor Season 14 joining friends and fans to watch the premiere of Bachelor Pad at Hussong's Cantina inside The Shoppes at Mandalay Place in Las Vegas.
Michael Buble dining at KOKO Restaurant + Bar in the OPUS Hotel Montreal.
Kate Bosworth hanging out on the large day bed by the pool at the Colony Palms Hotel in Palm Springs, Calif., while munching on the Open Face Tuna Nicoise Sandwich and the Purple Pomegranite Granita with a gal pal.
Green Day having a quiet dinner at Sunda in Chicago after their headlining show at Lollapalooza. The band sat in a private room where they noshed on sushi, sipped on Grey Goose cocktails and Billy Joe and Tre Cool played around with their new Samsung Galaxy Smart Phones.
Twilight's Jackson Rathbone hung out with Hallmark's hoops when visiting the Platinum Publicity Gift Lounge pre-Teen Choice Awards in L.A.
Cuba Gooding Jr. at XIV summer sessions in L.A.
TK at Melanie Segal's TJMaxx Lounge in celebration of the Teen Choice Awards in honor of Save the Children.
Gabrielle Union having dinner at SEI restaurant in Washington DC.
Jessica Stroup at Belvedere Nights at the Music Lounge in the Hard Rock Hotel in Chicago during Lollapalooza.
Gwyneth Paltrow getting a bikini wax at the Kimara Ahnert Studio in NYC.
Dancing With The Stars Karina Smirnoff showing off her smooth legs and her smooth moves as she danced to Gavin Degraw's performance at Schick Intuition's K.I.S.S & Tell event at Stone Rose Lounge in NYC on Thursday night.
Nikki Blonsky donating her Teen Choice shoes right off her feet to DoSomething.org immediately after taking to the stage to address the crowd of volunteers and celebrities.
Zac Levi inviting volunteers into the VIP section at the Teen Choice DoSomething.org-hosted after party in L.A. to help him pack school supplies for the Boys & Girls Club of L.A.
Twilight saga's Charlie Bewley and Alex Meraz at the 102.7 KIIS FM Teen Choice Awards Lounge at the W Los Angeles Westwood.
Real Housewives of New York City's Ramona Singer hanging out with the owner of the Metropole Hotel South Beach (home of the Jersey Shore cast during Season 2), Nathan Lieberman, at the SWAGG VIP Lounge at the Mercedes-Benz Polo Challenge at Blue Star Jets Field in Bridgehampton, NY.
Stars including Russell Brand, David Archuleta, Leighton Meester, Victoria Justice and Chase Crawford picking up things like the Palm Pixi Plus, FLIRT! Cosmetics, Hello Kitty by Sanrio and Vivitar Cameras at the MOROCCANOIL "Celebrity Retreat" by Backstage Creations For Gifting and Giving At Teen Choice 2010.
David Arquette celebrating the premiere of his 3D short, The Butler's In Love at a Moet & Chandon-sponsored party at the 6th Annual Hollyshorts Film Festival.
Ciara in the Grey Goose VIP Lounge at the New Look Foundations First Annual World Leadership Awards in Atlanta, GA.
The Hurt Locker's Anthony Mackie celebrating the launch of Marc Ecko's Cut & Sew fall line in New York City.
B.o.B performing his hit song "Airplanes" at Manor Nightclub in Chicago.
Lady Gaga eating at Art Smith's restaurant Table Fifty-Two in Chicago.
Modern Family's Rico Rodriguez, Nolan Gould and Ariel Winter picking up some yummy Milk & Krunchies at the KIIS FM's Teen Choice Awards Lounge at the W Los Angeles-Westwood last week.
Annalynne McCord (pictured) wearing her favorite Tkees sandals while judging the Hurley Walk the Walk Teen Fashion Competition at the US Open on August 7.