NEWS
Spotted!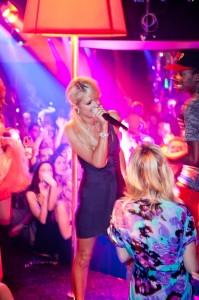 Paris (pictured) danced the night away to the sounds of DJ Devin Lucien at Drai's in L.A.
Thursday night Forever 21 celebrated their first designer collaboration with Brian Lichtenberg in L.A. (Forever 21.com)
On August 11, British actress Kelly Brook, and star of Piranha 3D carried SANG A's CLAP clutch in Antique Aqua Lizard to the BlackBerry Torch From AT&T U.S. Launch Party.
Bradley Cooper and Renee Zellweger met up with Jason Bateman and his wife for dinner at Nobu restaurant on Saturday at the Malibu Country Mart.
Jessica White (sans boyfriend Sean Penn) enjoying a girls night out at Griffin in New York.
Laura Linney was seen sipping a Skyy Ginger Infusions cocktail at Showtime's The Big C premiere at Donna Karan's East Hampton home last weekend.
We The Kings performing at the DoSomething.org party in L.A.
Laura Linney, Oliver Platt, and Gabourey Sibide at the Alma Tequila-sponsored Wrap Party for The Big C at the Eventi Hotel in New York City where Linney was seen chatting with Alma Tequila's Russell Terlecki.
Jake Gyllenhaal on the patio and Scott Caan in the lobby while designers Valentino Vettori and Sam Ben-Avraham showed their new collection, Improvd, in a suite at the Chateau Marmont in L.A.
Gilles Marini dining at Chi Dynasty's new restaurant in Studio City, CA.
Ali Fedotowsky picking out a jeweled necklace at Susan Foster Jewels in L.A.
Drew Barrymore enjoying a night on the rooptop of the London West Hollywood for NYLON Magazine and Express Denim's poolside soiree.
Top Chef contestant Angelo Sosa at Buddakan NYC.
Sophie Monk at the Lyric Culture launch of its "Nude Collection," inspired by antics of the band Semi Precious Weapons, at Fred Segal Santa Monica.
Sobieski Vodka global brand ambassador Bruce Willis offering a toast of Sobieski Vodka for charity at Binny's in Chicago, IL.
Tori Spelling back-to-school shopping with her husband and kids at Children's Place in L.A.
Criss Angel at Liquidity bar at the Luxor in Las Veagas celebrating the season 6 premiere of his show MINDFREAK.
Actress Kelly Preston (pictured) leaving the Lucky Brand Store on Montana Avenue in L.A. yesterday.
Michelle Trachtenberg at the Blackberry Torch launch event in L.A.
Denzel Washington at the 10th Annual Harold Pump Foundation Gala at the Century Plaza Hyatt Regency in L.A.
Carmen Electra walking around L.A. in Tkees luxury flip flops.
Twilight's Booboo Stewart joining K-Swiss and HBO's Eastbound & Down cohorts to celebrate all things Kenny Powers in Venice, CA.
Jill Zarin doing back to school shopping with daughter Ally at Rochelle Gores Fredston's ARCADE Boutique in West Hollywood.
Justjared.com's Jared Eng hanging out backstage with Kanye West and Mr. Hudson at the Rihanna/Ke$ha concert at Madison Square Garden in NYC.
Vanessa Minnillo and Samaire Armstrong watcing Roc Nation & Epic Records' newest artist HUGO in an exclusive performance at the SoHo House in L.A.
Article continues below advertisement
Drake showed up at Drai's with a huge entourage and girls were flocking over so hard they had to have security close of the entrance path to his table. Drake remained calm and collected keeping a low profile, hiding under a hoodie as his sizeable entourage kept up the 24 Hour Champagne Diet
Mark Salling and Daren Kagasaff celebrating Daren's friend's 21st bday at Drai's in L.A.
Celebrity tattoo artist Mario Barth supporting pal Sylvester Stallone at The Expendables premiere in Las Vegas.
Amber Heard (pictured on left), Isabel Lucas, Brandon Boyd, Matt Dallas, Amanda Righetti, Cap'n Nate, Billy Zane and Lisa Jammal at photographer Tasya van Ree's (pictured on right) opening night art exhibit "Untitled Project" at Celebrity Vault in Beverly Hills where guests sipped Svedka cocktails and listened to new tracks by music artist Samantha Mollen.