NEWS
Spotted!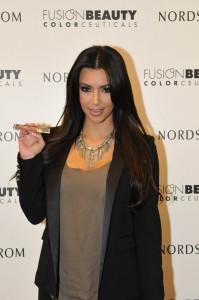 Kim Kardashian (pictured) shows off her holiday lipgloss pick, "24K" from FusionBeauty's Objects of Desire collection at Nordstrom in Bellevue, Washington.
Julianne Hough, Cheryl Crow, Sean Diddy Combs, John Legend, Christine Teigen, Rihanna, and the Backstreet Boys all arrive in Neil Lane jewelry at The American Music Awards on Sunday, November 21 in L.A.
Rapper Snoop Dogg was spotted enjoying nachos and sliders on Sunday, November 21 at Islands Restaurant in Brea, CA.
Fabolous celebrated his birthday this weekend in NYC and was all smiles when he received a pair of Jump Deluxe hi-top sneakers.
After the American Music Awards, Ne-Yo, celebrated the upcoming release of his album "Libra Scale", in partnership with Vevo at Avalon in Hollywood. The music industry's top artists and creative minds gathered to enjoy a champagne hour hosted by Moet & Chandon, followed by performances from Ne-Yo, Kelly Rowland, Keri Hilson, Sean Diddy Combs, and Jamie Foxx. Attendees enjoyed VIP service featuring Ne-Yo's champagne of choice, Moet & Chandon Nectar Imperial.
Maksim Chmerkovskiy was spotted watching Diddy perform while sipping TY KU's famous low calorie cocktails at the VEVO presents Ne-Yo and Friends AMA afterparty on November 21 in Hollywood.
Jesse McCartney was spotted with a gift bag from Sensible Portions and Terra Chips after the VEVO presents Ne-Yo and Friends afterparty November 21 at Avalon Hollywood.
After her performance at the AMA's Rihanna headed to SHG's MyStudio. She was joined by Akon, Christina Milian and more friends at a table just off the dance floor, drinking Grey Goose and dancing to R&B tunes spun by renowned DJ Orator.
Kevin Jonas was spotted partying with wife Danielle Deleasa and friends at 4sixty6 in West Orange on Saturday November 20th.
Jersey Shore's Snooki walks the red carpet with Scott Gerber, author of the new book Never Get a "Real" Job, at her 23rd birthday party at Pacha in NYC.
Actor John O'Hurley, his wife and little boy enjoyed brunch at Nick & Toni's Café in NYC on Sunday.
Justin Bieber singing in the Living Room at W Los Angeles Westwood prior to leaving for Sunday night's American Music Awards.
Taylor Armstrong and Lisa VanderPump from Real Housewives of Beverly Hills picked up some sexy Pastry Honey Knee Boots and Miche Bags with interchangeable design shells.
Tony Dovolani from Dancing with the Stars picked up a pair of Pastry Honey Knee Boots for his wife Lina. He thought she'd look "very sexy" in them and that they'd make a great gift for Christmas.
Tenley Molzahn (pictured) from The Bachelor and Bachelor Pad picked up some brown Pastry Sprinkle Booties for her upcoming trip to Hawaii with new beau Kiptyn Locke. She loved them so much that she had to try them on the spot.
A soft-spoken and mild-mannered Mike "The Situation" Sorrentino picked up a pair of Sprayground's Throwback Headphones, saying that he'd been needing a pair of headphones for a while.
Johnny Weir picked up a hot pink DVR 510N by Vivitar and his mom said that she would use it to tape him practicing triple axels. When asked if he'd like pink or black, he exclaimed "Hot pink of course!!"
On Monday evening, Brooke Shields and Kelly Rutherford were spotted with their children enjoying the Saks Fifth Avenue window unveiling featuring crystallized bottles of Moet & Chandon Imperial in the displays.
Mandy Moore wearing Miriam Haskell button earrings from the 2010 Holiday Midnight Frost Collection to this morning's broadcast of Good Morning America promoting her new film, Tangled on November 19.
Pop-Star Ke$ha picked up an animal print zip up Cashmere Cardigan by C&C California at the AMA gifting suite on Thursday, November 18. She put it on as soon as she got it and wore it around the rest of the suite.
Lance Bass from N'Sync checked out the Original Penguin shirts at the AMA gifting suite on Saturday. He picked out a long sleeve plaid button down shirt from the line.
New Kids On The Block's Jordan Knight checked out Rebecca Lawlor's heart necklace at the AMA gifting lounge.
Backstreet Boys' Nick Carter & AJ McLean had milkshakes by Johnny Rockets, which they said were delicious.
Mena Suvari, Jesse McCartney, Paul Wall, CC Sheffield and Cali Swagg District at the Skeetox event on Sunday, November 21 at Playhouse Hollywood.
Chris Pine, Tom Hardy, Scott Wolf and Morris Chestnut were all seen at Opus Bar in Opus Hotel Vancouver on Saturday, November 20.
Craig Robinson from Hot Tub Time Machine doing a solo dance on the dancefloor at Comix in New York on November 20.
Dina Manzo, former Real Housewife of NJ, spent the weekend (Nov 19-21) at The White Barn Inn in Kennebunkport, Maine.
90210 star Jessica Lowndes laughing and hanging out with a group of male models at the Express "Rock the Sidewalk" after-party in Miami, FL on Friday November 19.
Sean 'Diddy' Combs wearing David Yurman cufflinks on the red carpet to the 2010 American Music Awards on Sunday, November 21.
Article continues below advertisement
Last night, Disney took over Forever 21 to launch the exclusive new Minnie Muse collection with a huge party at the Hollywood & Highland location. Celebrity guests included Bella Thorne and Zendaya Coleman from Disney Channel's new series Shake It Up, Vanessa Simmons (Run's House, Daddy's Girls), Kyle Richards and daughters (The Real Housewives of Beverly Hills), Stephanie Pratt (The Hills) J. Alexander also known as Miss J (America's Next Top Model) and Shay Mitchell (Pretty Little Liars) all came out to celebrate.
Kei$ha stopped by the AMA Gifting lounge and was given a Johnny Rockets VIP card that entitles her to free Johnny Rockets grub for an entire year!
Lance Bass (pictured) picks up EOS organic lip balm at the AMA gifting lounge on Saturday in L.A.