NEWS
Spotted!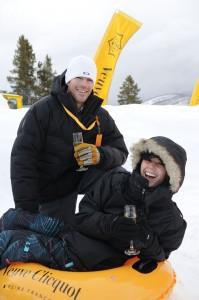 Trista & Ryan Sutter went for a spin on Vail Mountain's Adventure Ridge tubing park and toasted a great day on the mountain with Veuve Clicquot on February 24.
Kelly Rutherford wearing David Yurman's Pave Diamond Wheaton Ring, Pave Quatrefoil Diamond Ring, Pave Quatrefoil Drop Earrings, and Wide Pave Cable Cuff to Tuesday's 2011 Art Show Gala Preview in New York.
Jesse Metcalfe, Joan Collins, Rex Lee, Lea Thompson and more stopped by the TMG Pre-Oscar Luxury Suite last weekend where Pandora, Surface Hair Care, China Glaze, Body Drench, Dr. Renaud Facial Spa, Armaan Swiss Diamond Watches were all featured.
Hilary Swank was spotted having dinner at The Counter burger in Santa Monica on Tuesday night with a female friend. She had a banana shake and burger.
Mark Wahlberg requested that his trainer, Brian Nguygen and a Power Plate machine join him while he's shooting Contraband in New Orleans. Mark used the Power Plate to get in shape for his role in The Fighter.
Willow Smith rocked her own pair of customized Reebok "Freestyle Hi Pastel" kicks during Oprah's "All Time Smartest Most Talented Kids" show on March 1.
Josh Radnor, Malin Akerman and Adrien Grenier spotted at the Cinema Society screening of HappyThankYouMorePlease at the Standard's Boom Boom Room on Wednesday evening. Woodbridge by Robert Mondavi Brut Sparkling sponsored the after-party.
Kate Hudson spotted with a Danielle Nicole handbag. Danielle Nicole will be launching on HSN in April but currently you can find her bags sold in Macy's, Lord & Taylor, Nordstrom, Harvey Nichols, Saks in Mexico City and online.
Gavin MacLeod, "Captain Stubing" from The Love Boat, celebrated his 80th Birthday aboard the Golden Princess in L.A. on March 2.
Article continues below advertisement
Steven Weber from ABC's Happy Town, stopped by Kari Feinstein Style Lounge last weekend and picked up The Healthy Home, a new book due written by Dr. Myron Wentz & Dave Wentz about the simple truths to protect your family from hidden household dangers. The book comes out March 22.
Mehcad Brooks talking about his new show on USA's Necessary Roughness at the Hennessey Privilege #intime Event at the SoHo beach House in South Beach.
Heidi Klum was just spotted at Zoëtry Paraiso de la Bonita in Cancun, Mexico. Rumor has it she is staying in Cancun while shooting her new perfume's ad campaign.
After her appearance on Regis and Kelly on Thursday March 3, Beastly star Vanessa Hudgens hit NYC's Upper East Side's hottest fashion destination 25 Park to stock up on some must-have spring styles. The gracious Hudgens, who donned shorter, darker locks along with a new butterfly tattoo on her neck, reflected her new mature self since post-break up with cutie Zac Efron.
Jennifer Aniston and Paul Rudd were spotted having dinner together at Madeo Restaurant in L.A. on Wednesday, March 2.
Meagan Good grabbed late night drinks with friends at Kitchen24 in Hollywood during Oscars Weekend.
Don Cheadle was spotted at Westwood's favorite dining destination to the stars, Napa Valley Grille on March 3. He was seated at the bar enjoying the restaurant's rustic wine country-inspired happy hour offerings including some red wine, a harvest platter, and a sausage pizzette.
Criss Angel received the prestigious Elite Diamond Merlin Award for being inducted into the International Magicians Society Hall of Fame and World Magic Legacy Award "A Living Legend" on Wednesday, March 2 in Las Vegas.
Lo Bosworth, Audrina Patridge, Rumer Willis, Brenda Song, Autumn Reeser, Keisha Whitaker, Nia Vardalos, Derek Hough, Stacy Keibler, Charlotte Ross, Ariel Winter, Ali Fedotowsky and Badgley Mischka designers, Mark Badgley and James Mischka at the flagship opening of Badgley Mischka in Beverly Hills on March 2.