NEWS
Spotted!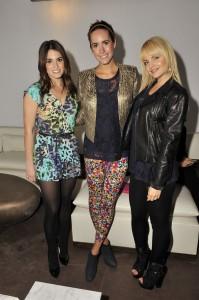 Nikki Reed, Louise Roe, Mena Suvari, Nicky Hilton and Jaime King came out Wednesday evening to celebrate the launch of UK Style by French Connection at Hollywood's newest hot-spot Lexington Social House.
Kate Bosworth and Alexander Skarsgard were spotted at Sushi Roku 3rd Street on Monday enjoying dinner with friends. The group was seen enjoying sake, an assortment or carpaccio, Roku signature sushi plates and uni shooters.
Sarah Jessica Parker dined with a group of six Monday evening at Legal SeaFoods at Long Wharf, Boston. She had a Wedge Salad and a lobster withspinach and baked potatoes for sides.
Sofia Vergara has visited SpaceNK in Century City, Los Angeles three separate times to purchase the Rodial Crash Diet Gel.
Gossip Girl's Matthew Settle, Kings of Leon bassist Jared Followill, and Stone Phillips were spotted sipping DeLeon Tequila and discussing what their own limits were after seeing the film at the After Party for the World Premiere of Limitless presented by DeLeon Tequila.
Amanda Seyfriend stopped in to pick up 4 red velvet, 4 cinnamon sugar, 4 vanilla, and 4 dark chocolate Sprinkles Cupcakes the day after celebrating the premiere of her latest film Red Riding Hood with on again/ off again boyfriend Ryan Phillippe.
Article continues below advertisement
Jordin Sparks indulged in a half dozen box of Sweet E's Bake Shop cupcakes while shooting "The World I Knew" music video, the theme song for the new Disney movie African Cats. Jordin ate red velvet, cookie dough, and chocolate lovers that we customized with photos of her album covers and her favorite sports teams the Arizona Cardinals and Phoenix Suns.
Susan Sarandon unveiled the SodaStream "Cage" Environmental Exhibit in Chicago to educate people that the average American family will use 10,000 cans and bottles over a 5 year period. Find out how you can make your soda or sparkling water at home with SodaStream.
Lil Jon drinking Don Julio while dining at Greenhouse in NYC.
Kim Kardashian was spotted at The Cheesecake Factory in Sherman Oaks tonight without her NBA beau Kris Humphries or her ever-present family. Instead, she sat on the patio with group of friends. While on her way out, she approached by fans for autographs and someone was overheard saying that she was the nicest celeb they've ever met.
Latoya Jackson checking out a turquoise Eleven Eleven Watch while shopping in West Hollywood.
Vanessa Minnillo enjoyed some spa time at Nail Garden Sherman Oaks.
Miley Cyrus wearing a diamond Demistache necklace on Late Night with Jimmy Fallon.
True Blood werewolf Joe Manganiello and The Good Wife star Matt Czuchry were both spotted in custom, classic grey Joseph Abboud® looks designed by Creative Director, Bernardo Rojo for two start-studded events this past weekend. Manganiello looked dapper in a Joseph Abboud® charcoal suit while attending PaleyFest 2011 at the Saban Theatre in Beverly Hills on March 5th, while Czuchry ventured out the following night in a Joseph Abboud® shawl collar smoking jacket for the Broadway opening of "The Championship Season" in New York City.
Kaleena Harper of Diddy's, "Dirty Money" performed Coming Home on American Idol on Thursday's show.
Tonight Style Expert & Author of The Bra Book, Jene Luciani's E-book launch party was held at restaurant I at the Charles Hotel. Bravo filmed for Chris March of Project's Runway's upcoming show. Cameras were rolling as Kat Deluna and Paul Johnson Calderone showed their support for Luciani all while guests sipped on NUVO Sparkling Liquor and danced to tunes by "DJ Chef" Weiss. Guests also enjoyed the VIP area with the Barnes & Noble Nook Color featuring the E-book version of The Bra Book, dazzling Chelsea Taylor jewelry, candy from Ooh La La Candy, food by Pop Chips and massages from Oasis Day Spa.
Dancing with the Stars partners Kirstie Alley and Maksim Chmerkovskiy were dancing for the guests, sipping VnC Cocktails, at Organic Liaison store opening on Wednesday night in L.A.
Taylor Swift wearing Archive 1887's Bob Dylan "Harmonica" tee while grocery shopping in Nashville, Tennessee on March 4.
Reese Witherspoon gushes over Dearfoams slippers while visiting Chelsea Handler in L.A.
Artists like Cee Lo Green and Jason Derulo bowling for a cause at the 5th annual Stars and Strikes bowling and poker night benefitting A Place Called Home. Jason Derulo was quite the sport, coming out to support the event hosted by Teruo Artistry's Prophet, even though he was on vocal rest and unable to speak.
Jersey Shore star Vinny Guadagnino was spotted dining at Strega Waterfront in Boston and was overheard chatting with restaurant owner Nick Varano and Vinny's uncle, Uncle Nino (who has been on the show before) about how excited he was to start filming the next season of the show in Italy.
Vanessa Hudgens and Sarah Hyland enjoyed Mani/Pedi treatments together at Nail Garden Studio City, CA.
Michaela Conlin wearing Vhernier's PanDiZucchero Earrings and Bracelets, as well as carrying a Kotur clutch to Thursday night's The Lincoln Lawyer Los Angeles premiere.
Thursday evening, crooner John Mayer dined at Haru in Boston. He sat by himself at the bar for about an hour and chatted up a couple of women before making his exit.
90210 hottie AnnaLynne McCord spotted out of her zip code during a brief visit to Manhattan's Upper West Side sporting her Reebok EasyTone footwear and apparel.
Tom Hanks, Rita Wilson and one of their sons ate at Waterbar restaurant in San Francisco tonight. Tom had the Terra Cotta Baked Sardines and the Dashi Braised Black Cod and Rita had the Pan Roasted Whitefish. The table also enjoyed pastry chef Emily Luchetti's Oatmeal Cookie Malted Milk Ball Ice Cream Sandwich.
Paris Hilton and boyfriend/nightlife mogul Cy Waits were dancing at Playhouse Hollywood last Friday night, when next door table client Don Johnson bought them a 15 liter Nebuchadnezzar of Veuve Clicquot Yellow Label champagne. Manufactured Superstars headlined the evening, while DJ A)ex O. opened.
Emmy Rossum belted out live performance of "Think of Me" from The Phantom of the Opera at the JW Marriott Chicago grand opening.