NEWS
Spotted!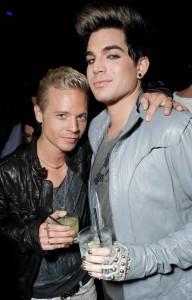 Adam Lambert and boyfriend Sauli Koskinen attend Markus Molinari's birthday hosted by John Terzian of The h.wood Group at Voyeur in West Hollywood on May 20.
On Friday, May 13, Ryan Reynolds was spotted having dinner with an older gentleman. They enjoyed a leisurely 3-hour meal in the restaurant's lounge area, and were seen enjoying signature dishes from Executive Chef Pascal Lorange including Rosemary Lamb Chops and Chicken, alongside some Beef Carpaccio and Red Wine.
Gossip Girl mom Kelly Rutherford spotted in the park sharing french fries with her son while sporting a K-Swiss training backpack.
Last Monday night the group Train stopped in at Morton's The Steakhouse in Buckhead (Atlanta) for drinks at Bar 12-21.
Survivor: Redemption Island finalist Ashley Underwood let her hair down and celebrated the Survivor finale last week by rocking out on the red carpet of Starburst's Songwriters Music Series where Matthew Morrison performed an acoustic set to benefit the VH1 Save The Music Foundation.
Nicole Richie & Joel Madden having lunch at Chateau Marmont in Los Angeles on May 17.
Pop songstress Jojo, Lil Eddie and a friend stop by Kitchen 24 in Hollywood to celebrate Lil Eddie's album release on May 18. The trio munched on sweet potato fries and signature Kitchen 24 burgers.
Jamie Lynn Sigler drinking skinny water at the Miramax party on a private boat in Cannes.
Jake Gyllenhaal was spotted at M Café Melrose – Los Angeles on May 19.
Article continues below advertisement
Connor Cruise (Tom Cruise's son) aka DJ CZ Entertainment spinned the Ryan Kugler: Artists Against Drugs Event sponsored by Morton's Steakhouse at the Satine Boutique on Saturday.
The Get Schooled Foundation, along with world-renowned celebrity guest Nicki Minaj, surprised the students and teachers at Collins Academy High School on May 19 in Chicago. In addition to taking on the role of "Principal for the Day," Nicki Minaj presented three exemplary students each with $10,000 college scholarships from Comcast and joined MTV's Sway Calloway in an all-school assembly to celebrate the student's and teacher's accomplishments.
Owen Wilson attended the premiere of Woody Allen's film, Midnight in Paris at the Academy of Arts & Sciences last Wednesday evening where KARMA California Brut was a sponsor.
Taboo of Black Eyed Peas picked out an Kate Mesta original hand painted dog tag with a musical note at Backstage Creations Retreat at the Billboard Music Awards.
Matthew Morrison supported SRS Labs and MusiCares at Backstage Creations Retreat at the Billboard Music Awards while Ke$ha, Neil Diamond and Kelly Rowland were seen checking out Flirt! Cosmetics, dedegumo watches, Pocketbook ereaders and Bolzano handbags.
Stefano Langone from American Idol did a surprise performance of a few songs at Hemingway's in Los Angeles on May 18.
Katie Holmes wears Cindy Chao – The Art Jewel White Label Ivy Hoop Earrings from the Four Seasons Collection in White Diamonds and Yellow Gold at Oprah's Farewell Spectacular in Chicago on May 17.
AnnaLynne McCord attends the Somaly Mam Foundation's young activist organization Project Futures global on May 17 at the Bowery Hotel.
Rachel Bilson and Jaime King celebrating their new show "Hart of Dixie" at Riff Raff's in NYC. The girls were joined by friends including actor Shane West and R&B singer Ne-Yo who toasted to the girls with rosé champagne until the wee hours of the morning.
The night before her big cover shoot for the July 2011 issue of Plum Miami magazine, a very blonde Lindsay Lohan visited Miami's celeb hotspot The Forge Restaurant | Wine Bar on the arm of Plum CEO Jerry Powers and six others, including little sister Ali Lohan.
Article continues below advertisement
Ali Landry and daughter Estela celebrated Sophie the Giraffe's 50th birthday party at West Hollywood's luxury baby boutique Petit Tresor on Thursday, May 19. The two made their own custom Silly Bandz packs, brought toys to donate to Baby Buggy and snacked on Sweet E's cupcakes. Guests also enjoyed champagne from Nicolas Feuillatte and made photo flip books from A Little Scene.
Lucy Hale wearing a Miriam Haskell bracelet and carrying a Kotur clutch to the Young Hollywood Awards in Los Angeles on May 20.
Justin Bieber sauntering out of W Los Angeles Westwood and hopping into a black Mercedes and speeding away on May 19 in Los Angeles.
Selena Gomez and Rihanna wearing Neil Lane Jewelry at The Billboard Music Awards in Las Vegas on May 22.
Joe Jonas wearing David Yurman's Black Onyx Spiritual Bead Bracelet to the Billboard Music Awards in Las Vegas on May 22.
Before settling down at Bradley Cooper's table at the Tabasco Bloody Mary sponsored Hangover II premiere after-party, Dax Shepard and Kristen Bell made a pit stop at the dessert buffet and then chatted with Robert Downey Jr. and his wife, Susan, over coffee.
Jason Bateman arrived to the Tabasco sponsored Hangover II premiere after-party desperately seeking a restroom. He left his wife, Amanda, to fend for herself at the Tabasco Bloody Mary Bar.
Jessica Alba and husband Cash Warren attended a group rehearsal dinner in the private dining room at Napa Valley Grille - Westwood's iconic 11-year wine country-inspired culinary gem on May 20.
Lucy Liu and Prof. Dr. Martin Winterkorn, Chairman of the Board of Management of Volkswagen AG unveil the Volkswagen XL1 AT MoMA.
Khloe Kardashian, steps out in style at Jimmy Kimmel Live! in her Christian Louboutin heels and olivia+joy cross body bag.
90210's and Broadway's Love Loss and What I Wore's AnnaLynne McCord helped her sister, Angel celebrate her 26th birthday at TAO and Avenue in NYC.
Former Celebrity Apprentice contestant Lil Jon was on hand for a live DJ set inside Ultra 88 Night Club at Mohegan Sun this past weekend. The hip hop star started the party off with shots of Don Julio Reposado Tequila and Bottles of Moet Rose for him and guests the second he walked into the club. Lil Jon was feeling lucky after dj'ing for a sold out crowd as he hit the Wheel of Fortune slot machines late night on his way up to his High Roller's Suite for an after party until the early hours. Check out this video on Lil Jon at Mohegan Sun.
Ryan Gosling stopped by Nikki Beach at Cannes.
Far East Movement was spotted at Marquee Mondays last night at Marquee Nightclub at The Cosmopolitan of Las Vegas. The electro hop quartet, fresh off their performance at Sunday's Billboard Awards, joined Eric D-Lux in the DJ booth, who gave them a shout out to a cheering crowd before playing their hit "Fly Like a G6." Floyd Mayweather Jr. also checked out the hotspot's industry night.
Basketball legend and sports commentator Charles Barkley squeezed in a 60-minute work out today with professional trainer Matt Pack at the new Primal Fit Miami in Miami Shores.
Article continues below advertisement
Ryan Cabrera was spotted at the launch of J.Molinari sponsored by BluCigs and Hpnotiq harmonie.
Aubrey O'Day hosted a pre-Billboard Music Award party on Saturday at The Bank in The Bellagio in Las Vegas.
Audrina Patridge spotted eating dinner at Mucho restaurant in Manhattan Beach, CA last week.
Whitney Port hosted at TAO Beach on Saturday in celebration of the new Swarovski Las Vegas Crystal Forest store in The Venetian Grand Canal Shoppes.
Nicki Minaj spotted getting on a Southwest flight from Las Vegas to Los Angeles on Monday afternoon.
Jillian Michaels and Bob Harper from The Biggest Loser dined at TAO, then made a stop at the nightclub before heading over to check out Marquee. Michaels was spotted dining at LAVO on Friday.
Erika Christiansen standing in front of the bar waiting for the show to start at the Heineken sponsored Young Hollywood Awards on Friday at the Nokia Theatre in Los Angeles.
Gretchen Rossi and Alexis Bellino love the newly launched EOS Lip Blam Smooth Sphere Summer pack with limited edition flavors - Strawberry Sorbet & Passionfruit. Pick up your pack at Wal-Mart nationwide.
New York Yankee Mark Teixeira discussing his upcoming appearance on Entourage at the Delta Dugout event in NYC's Madison Square Park.
Joel Madden took a night off from Daddy duty to present Troy Polamalu of the Pittsburgh Steelers with an award at the 26th Annual Sports Spectacular benefitting Cedars-Sinai Medical Center in Los Angeles. He attended the event with his brother Benji Madden while Nicole stayed home with the kids.
Eva Mendes and Topher Grace attend the Young Hollywood Awards sponsored by VnC Cocktails on May 20 in Los Angeles.
Bar Refaeli spotted at Cannes International Film Festival in a Sydney Evan "Love" ring.
Beyonce and Jay Z dined with a group at BOA Steakhouse Las Vegas on Friday, May 20 while in town for the Billboard Music Awards. Jay Z, Rihanna, and others returned to BOA on Saturday night and sat on the terrace.
Eva Longoria was spotted on Saturday at French Connection in New Orleans picking up sexy summer dresses for herself and pair of shorts for her new man, Eduardo Cruz.
Joe Jonas wearing a David Yurman bracelet while eating at Kings Road Café in West Hollywood on Monday.
On May 21, Bruno Mars, Train and several others performed on the Pimlico infield during Preakness InfieldFest 2011, which also included a historical beach volleyball tournament put on by the newly formed National Volleyball League.
Phaedra Parks (attorney and cast member of The Real Housewives of Atlanta) celebrated her son Ayden's first birthday on Saturday by treating her friends and family to a pool party at the Frances Meadows Aquatic Center in Georgia, complete with a Cold Stone ice cream bar to scoop their favorite flavors.
Kellan Lutz has been flaunting his sexy smirk and a stress-reducing watch from Philip Stein while promoting the release of his new movie, Love, Marriage, Wedding. From the red carpet to an appearance on Chelsea Lately, Kellan has been spotted sporting his Philip Stein watches that feature an exclusive Natural Frequency Technology, clinically studied to reduce-stress and improve sleep in wearers.
Dax Shepard was spotted at the Premiere of Hangover Part II in Los Angeles last Thursday, May 19, wearing the Diesel Zatiny 8Y3 jeans with his lovely fiancé Kristen Bell.