NEWS
Spotted!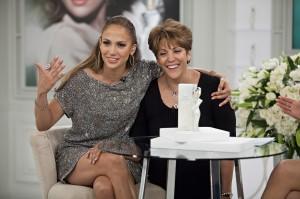 Jennifer Lopez live on-air from HSN in St. Petersburg, FL on July 2 to launch her new fragrance, Love & Light. Jennifer's mother, Guadalupe made an appearance and revealed how she just traveled to Europe to take care of her daughter's twins while Jennifer was performing.
Actor Gary Busey celebrated his birthday with friends on Saturday night beginning with a sumptuous meal at Society Café at Encore Las Vegas and culminating with a bash at the posh Blush Boutique Nightclub at Wynn Las Vegas.
Jamie Foxx dined at Morton's The Steakhouse in Atlantic City on July 3 while in town for his shows at Ceasar's and House of Blues.
Josh Duhamel visited the New Orleans's Morton's The Steakhouse while in town working on the new film Fire with Fire on July 3. He ordered the Wedge Salad, Single cut filet and a side order of broccoli.
Bono was spotted at WALL Miami lounge on Thursday night, capping off his concert week with a tequila and champagne-infused party session that lasted until 4AM.
Ashley Tisdale celebrated her 26th birthday in Malibu on Saturday, July 2 at a beach house where guests including Zac Efron and Robbie Williams enjoyed Heineken Light and VnC Cocktails. Ashley got ready for the big day with a spray tan from Temptu.
Liev Schreiber and his wife Naomi Watts were spotted Thursday night at Turtle Crossing in East Hampton, NY.
Ethan Hawke and his pregnant wife Ryan Shawhughes enjoyed an outdoor dinner with 6 friends on Sunday on the patio at Nick & Toni's in East Hampton, NY.
Bobby Flay & his wife Stephanie March enjoyed a casual dinner at Bostwick's Chowder House in East Hampton, NY.
Bethenny Frankel was spotted twice over the weekend at Navy Beach in Montauk, NY, first enjoying a date night on Saturday with her husband Jason and then she was back again on Monday, July 4 enjoying the live music by local songtress Nancy Atlas with her son Bryn and a friend.
Recording artist, Ke$ha, won a SRS TheaterSound™-equipped 46-inch Samsung 3DTV in the "Backstage Creations Celebrity Retreat" during the 2011 Billboard Music Awards and donated it to the Monroe Carell Jr. Children's Hospital at Vanderbilt.
Article continues below advertisement
Flo Rida was spotted living large on July 4 at Encore Beach Club at Encore Las Vegas. The rapper and singer was seen hanging out with beautiful people in a tricked out bungalow where he drank Dom and kept cool in a private dipping pool while listening to the sounds of Afrojack, the Grammy-winning DJ/producer who performed a live set at the Strip's premier daytime destination.
Ice T and Coco were among revelers who celebrated July 4 at Marquee Nightclub in Las Vegas on Monday. The rapper/actor and his wife, who star in the new E! reality show Ice Loves Coco, took in the sounds of DJ Eric D-Lux to wrap up the holiday weekend.
Rihanna was spotted in a bikini with a crochet dress and enjoying a bacon cheeseburger at Marquee Dayclub at The Cosmopolitan of Las Vegas on Friday afternoon.
Actress Rosario Dawson hanging out with her mom and sipping champagne at the "Hyde comes to AXE Lounge" party in Southampton on Sunday night, July 3.
Kevin Connelly spotted drinking Newcastle at Adrian Grenier's going away party (since Entourage has wrapped for the season, Adrian is headed back to NY) on Saturday at Adrian's home in Los Angeles. Guests also kept cool with Grey Goose popsicles.
Gabriel Aubry and daughter Nala spotted watching the 4th of July parade on the street in the Pacific Palisades.
On Friday Nick Lachey kicked off Fourth of July weekend with a bachelor party at TAO. On Saturday, the bash continued as he hosted a Fourth of July weekend celebration at TAO Beach. Nick, his best man brother Drew Lachey, Jeff Timmons of 98 Degrees and friends gathered in a cabana.