NEWS
Spotted!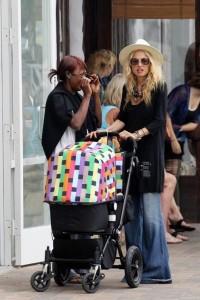 Rachel Zoe has been spotted multiple times around town wearing her Level 99 jeans. The jeans are available at Anthropologie stores nationwide and online.
Mary J Blige debut her latest fragrance called My Life Blossom with fans at Carol's Daughter Pop-Up store in New Orleans last weekend during Essence Music Festival.
Lance Bass is such a big fan of eos hand lotion that he even applied some to his face after learning it was dermatologist tested and hypoallergenic.
Nicole Kidman spotted with baby Faith snuggling her Max Daniel baby throw at the airport in Sydney, Australia on July 6.
Newlyweds Dave Annable and Odette Yustman were spotted with a group of friends at the Diesel store on Melrose in L.A. on July 5 talking about their camping excursion over 4th of July weekend.
Emmy Rossum was spotted starting off the holiday weekend with dinner and sake at Sushi Roku Hollywood on Friday night.
Denise Richards spotted with her new baby in her new Simmons Kids stroller. The Tour Buggy by Simmons stroller is due out next month and you can buy it at buybuybaby.com.
Actress Malin Akerman hit WALL Miami with R&B artist, Maxwell to hear Australian songwriter/producer/DJ duo NERVO a.k.a. sisters Liv and Mim Nervo. Malin enjoyed champagne and danced with owners into the early hours.
Estelle and Solange Knowles celebrating Mohammed Al Turki's birthday at the Moet House in the Hamptons on July 3.
Rapper Flo-rida treated the crowd at WALL Miami to an impromptu performance as he borrowed the mike from DJ Ross One and performed three tracks off his latest album on Tuesday evening.
Jeremy Piven treating producer pal George Perez to a steak dinner at AGO restaurant in West Hollywood to celebrate the series wrap of Entourage.
Lauren Conrad fresh faced after her break-up thanks to BH Cosmetics.
Article continues below advertisement
Ashley Tisdale sipping on an Earthbar smoothie and taking a coconut water to go after working out solo on July 6 at Equinox West Hollywood.
Hilary Swank wearing Vhernier's Onda ring and medium Calla earrings to the Hugo Show during Mercedes-Benz Fashion Week Berlin Spring/Summer 2012 at the Forum Museumsinsel at the Brandenburg Gate.
Shameless star, Laura Slade Wiggins wearing Silpada Designs at the Shay Todd flagship store opening in Los Angeles on July 7.
Jennifer Aniston, wearing huge sunglasses buying a pair of designer, Ritchie Erani's new Cork Wedge shoes in gold with gold chain trim at Chuckies New York on Madison Avenue.
Emma Roberts carrying a Kotur clutch to the Harry Potter And The Deathly Hallows Part 2 World Premiere after party in London on July 7.