NEWS
Spotted!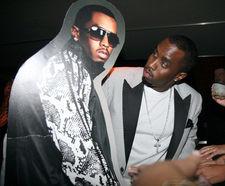 ,

in San Diego for her tour, stopped by the Penthouse of Stingaree with her male dancers and was seen doing some Bootylicious dance moves and even took shots of Don Julio tequila...

,

who was

dressed casually, dined with a friend at Garden of Ono in New York City and was overheard discussing a possible movie role. The two enjoyed some Amstel Lights, and Ryan left a more than gracious tip...
Taking a break from filming The Assassination of a High School President in NYC

,

was seen at the Feist show at McCarren Pool in Brooklyn...

celebrated his new Sean John Underwear line with a launch

party at Light in Las Vegas. Diddy enjoyed posing with cardboard

cutouts of himself all over the party. Meanwhile, , who came in through the

back door, requested a seat right next to Diddy but spent the night dancing

by herself, holding a can of Red Bull, an eyewitness tells OK!
Seen a celebrity out and about? Let us know! spotted@okmagazine.com
Article continues below advertisement