NEWS
Spotted!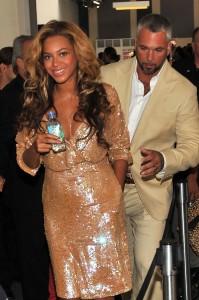 Beyonce attended the Spring 2012 J. Crew and Vera Wang presentations with her baby sister, Solange in New York on Tuesday. The pregnant star glowed with happiness as she sipped FIJI Water and strolled around the Mercedes-Benz Fashion Week tents.
Pitbull had dinner at Gotham Steak in Miami before heading over to the bar where he bought everyone a round of drinks. Women were seen throwing themselves at him. Trey Songz, Jason Derulo and Reggie Bush were also spotted LIV.
Vanessa Hudgens enjoying Stoli cocktails at the Gilt City Hamptons summer house.
Ali Landry reading to children during 'Story Time' sponsored by "The Nestle Share the Joy of Reading Program" at the first ever celebrity Red CARpet event designed to raise awareness about the proper installation of child safety seats.
Revlon spokeswoman Jessica Alba stopped by Backstage Creations Celebrity Retreat to demo the BiGR Audio headphones and select a black wrap from Miguel Torres. He insisted she also take the black lace and leopard as well before she headed out to accept her NCLR ALMA award on stage. Constance Marie was amazed at how svelte and toned Jessica looked less than a month post-baby.
Selena Gomez, sans Justin Bieber, spotted having lunch with her family at Roppongi Restaurant & Sushi Bar in La Jolla, CA on September 9. When leaving, a group of young girls spotted the teen star who graciously posed for a photo with them - one of the fans even broke down in tears.
Jack Osbourne spinning for 3 hours at Equinox in Palos Verdes on Sunday morning for a veterans charity event supporting The Heroes Project.
Article continues below advertisement
Kylie Jenner, the youngest sister in the Kardashian clan, dressed in tights and boots stopped by sister Kim's favorite NYC restaurant, Serendipity 3, while in NYC for Fashion Week. Kris and Bruce Jenner's youngest daughter walked the runway for the Abbey Dawn by Avril Lavigne line at the Metropolitan Pavillion on Monday night.
The Bachelorette Ashley Herbert talking about traveling back and forth between dental school and her fiancé getting their apartment set up in NY, while getting a Sue Devitt Beauty makeover and a DDF facial at the Daily/softcup beauty bar during NY Fashion week.
Russell Simmons and Bar Refaeli watching The Parlor Mob perform at Muse Magazine's Fashion Week party sponsored by Voli Light Vodkas at The Darby Restaurant in NYC.
Tori Spelling, with kids Liam and Stella in tow, celebrated Fashion's Night Out at Westfield Topanga kicking off the fashion show featuring the mall's retailers.
Jersey Shore's Sammi 'Sweetheart' Giancola and Deena Nicole Cortese snagged HTC Trophy Windows Phones from Verizon at the Allure Lounge during Fashion Week in New York. Everybody wanted to see Deena's new tattoos which adorned the tops of her feet and said,"Tell me I can't and I'll show you I can".
Meryl Streep joined designer Diane von Furstenberg and editor in chief Tina Brown at The Newsweek/Daily Beast Co.'s Women in the World Foundation kickoff gala Tuesday night in Manhattan where she gave a touching reading about an Afghan woman's inspiring journey from child bride to entrepreneur.
Amanda Seyfried made her first public appearance with a new guy, ping pong hotspot SPIN NYC owner Franck Raharinosy, after splitting with Ryan Phillippe at the Moet Suite at the US Open. She signed a limited-edition magnum for the champagne's Cheers for Champion charity before trying to keep a low profile with Franck in the stands on Day 8. Other celebs who came out to watch tennis at the Moet & Chandon Suite include Vanessa Hudgens, Olivia Palermo and Will Ferrell.