NEWS
Spotted!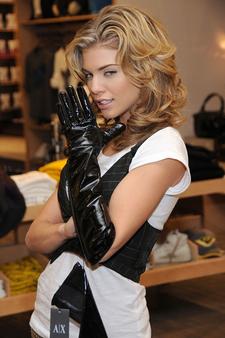 90210 star AnnaLynne McCord went holiday shopping at Armani Exchange on Sunset Blvd. in L.A.
Lacey Schwimmer and Kim Kardashian having a Dancing with the Stars reunion at the Ubisoft Rayman Raving Rabbids TV Party Launch at Apple Lounge in L.A.
Singer Michael Bublé celebrated his successful Madison Square Garden concert at Lugo Caffe with Rocco Dispirito and friends in NYC.
WWE superstar John Cena enjoying some BBQ and a bucket of Coors Light at Southern Hospitality. A table full of girls celebrating their birthdays got birthday wishes, hugs and drinks courtesy of the WWE World Heavyweight Champion.
Article continues below advertisement
Robin Thicke and Cynthia Crowley in Times Square doing their thing on Diet Coke's The Style Series event on Tuesday.
Jason Lewis picked up two "The Radha" pizzas at all-natural & organic pizzeria Slice in NYC. He ordered his pizza "extra crispy" with no onions and added sesame free-range chicken. When he came to pick up the pizza, because he comes in so often, the employee at Slice jokingly offered him a job, but Jason kindly declined.
Jessica Alba strolling her beautiful baby girl Honor in L.A. wearing her "Live to Love" T-shirt by 291 and LNA hoodie in orchid.
Liv Tyler staying in shape by hiking in the Hollywood Hills and wearing her eco-friendly Trove top called "The Alex."
The Jonas Brothers, Beyonce, Miley Cyrus and David Cook receiving Coca-Cola's new aluminum bottles in their dressing rooms before the Rockefeller Center Christmas Tree Lighting.
Article continues below advertisement
90210 starlet Shenae Grimes wore grey Black Orchid skinny jeans to the Rayman Raving Rabbids TV Party Video Game Launch West Hollywood
NBC's Lipstick Jungle hunk Robert Buckley sporting French Connection's "Shameless" lightweight jacket to the Ray-Ban Clubmaster Shades Launch in NYC.
Kristin Bell loving her mac and cheese with parmesan truffle fries so much during her dinner at STK in NYC she made a reservation at their West Coast location to treat herself!
Bethenny Frankel and her new hot mystery man drinking Frangelico Martinis and getting very close on the dance floor at the Florida Room last night!
Molly Sims dancing to Debbie Harry and drinking Svedka cocktails at the Rock & Roll Hall of Fame Annex Opening in NYC.
Dennis Haskins, better known as "Mr. Belding" from the hit television series Saved by the Bell, taking in a performance by former Hawaiian Tropic model turned singer Amanda Henkel during a NFR party at Hawaiian Tropic Zone inside Miracle Mile Shops on Dec. 10. Haskins later took the stage with Cody McCarver, member of country band Confederate Railroad, and serenaded the crowd.
Article continues below advertisement
Pro golfer Phil Mickelson, practicing his swing on actor Mark Wahlberg's home golf course in the Wilshire Country Club. Phil, who recently did a cameo on Mark Wahlberg's TV show, Entourage, will get another chance to show-up the avid celebrity golfer at the Callaway Golf Foundation's Pro-Celebrity Tournament to benefit the Entertainment Industry Foundation's Cancer Research Programs at the Riviera Golf Club in Pacific Palisades on Dec 16 against Don Cheadle, Greg Kinnear and Andy Garcia to raise money for cancer research.
Lenny Kravitz and daughter Zoe working out together at ME Fitness in Miami.
Katie Lee Joel serving Godiva Liqueur cocktails at her holiday event at Stone Rose in LA
Jamie Lynn Sigler hosting a preview of her jewelry line CJ Free Jewelry at the Switch Boutique in Beverly Hills.
Jason Statham, star of The Transporter, was seen drinking at Hudson Bar And Books making a failed attempt to flirt with a beautiful Australian waitress.
Lisa Rinna drinking a cup of Mighty Leaf Tea's Organic Detox Tea at the launch party for celebrity photographer, Deborah Anderson's new coffee table book "Paperthin" at Minotte Studio in Los Angeles.