NEWS
Spotted!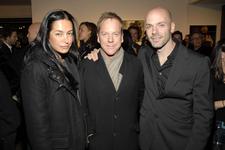 Keifer Sutherland at photographer Norman Jean Roy's "Traffik" exhibition, an expose into the Cambodian sex slavery industry, at Milk Studios in NYC.
David Duchovney and Demi Moore had dinner Nov. 15 at ONE.midtown kitchen in Atlanta, Ga. Everyone was gracious and complimentary as they left the restaurant around 11pm.
Jennifer Esposito buying Genetic Jeans at downtown boutique, Owl's Lab
Seann William Scott recruiting for his Drambuie Pursuit team at g Lounge in Philadelphia.
Article continues below advertisement
Marisa Tomei buying two Kova & T burn-out T-shirtsat Beckley Boutique on Melrose Ave. in L.A.
Tyrese buying $5000 worth of clothes at Lounge in Aventura Mall the night before it opened to the public.
Mena Suvari at the launch of the Jordan Melo M5 in L.A.
Marcia Cross flying solo enjoying a latte at Caffe Luxxe on Montana Avenue in Santa Monica.