NEWS
Spotted!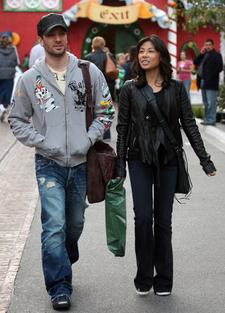 J.C. Chasez shopping at The Grove in L.A.
Garcelle Beauvais ordering a TY KU cocktail at the Make a Difference Network Holiday Party hosted by Justin Timberlake, Jessica Biel and Karma Sparkling Wine to benefit Children's Hospital Los Angeles.
Hayden Panettiere and Jesse McCartney talking at the Ubisoft Rayman Raving Rabbids TV Party Video Game Launch Party at Apple Lounge in L.A.
??Jessica Alba getting a 75-minute Ona Ultimate Facial with Golee and an 80-minute Deep Tissue Massage at Ona Spa in L.A.
Article continues below advertisement
??Lenny Kravitz and daughter Zoe working out together at ME Fitness in Miami.
Katie Lee Joel serving Godiva Liqueur cocktails at her holiday event at Stone Rose in L.A??.
Jamie Lynn Sigler hosting a preview of her jewelry line CJ Free Jewelry at the Switch Boutique in Beverly Hills. She also took in a holiday charity fashion show at Beverly Hills boutique Play Couture to support Children Uniting Nations.
??Jason Statham, star of The Transporter, was seen drinking at Hudson Bar and Books making a failed attempt to flirt with a beautiful Australian waitress.
??Lisa Rinna drinking a cup of Mighty Leaf Tea's Organic Detox Tea at the launch party for celebrity photographer, Deborah Anderson's new coffee table book Paperthin at Minotte Studio in L.A.