NEWS
Spotted!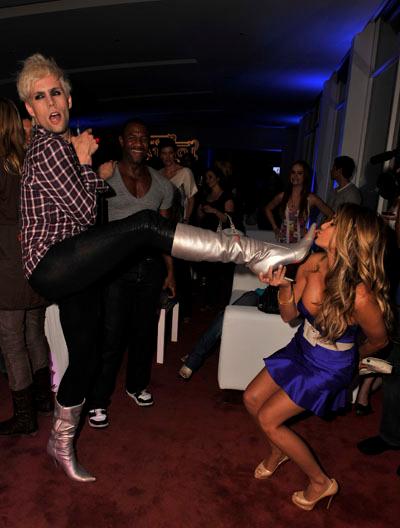 Carmen Electra seen kissing Semi Precious Weapons frontman Justin Tranter's custom Stuart Wietzman heels at the Andaz Hotel in Los Angeles.
Kim Kardashian chewing on candy at the grand opening of Sugar Factory in Las Vegas's Mirage Hotel. Kim also has a line of bejeweled lollipops with the celebrity candy store.
Robin Thicke singing an acoustic version of Michael Jackson's "Human Nature" at the launch of SoBe Lifewater Summer Fridays in NYC.
Article continues below advertisement
Courteney Cox and David Arquette, along with Sinupret For Kids and Yogen Fruz, kicking off the summer with a fun-filled picnic at the Malibu Lumber Yard to benefit the EB Medical Research Foundation.
Mickey Rourke hanging out with DJ Stonerokk surrounded by gorgeous
women at HYDE.
Ashley Greene sporting Trove Clothing's new "Point Break" tee & Trove Tkees flip flops at Oakley's Learn To Ride surf party sponsored by Muscle Milk.
Selena Gomez walking and talking with friends in NYC showing off her lia sophia's cobblestone and snake chain rings.
Isla Fisher eating Popcorn, Indiana while at her hubby's L.A. premiere of Bruno.
Jessica Biel eating a beet salad at Kitchen 24 in L.A.
Nicole Richie and the Madden brothers at the private opening of Dusk at Caesars in Atlantic City,
Diddy joining ex Kim Porter as she hosted The Rock N Roll of Hip Hop Hennessy event honoring photographer Cheryl Fox and her collection of never before published images of todays music icons, at Celebrity Vault in L.A.
Article continues below advertisement
Noah Cyrus and Frankie Jonas at the premiere of their film Ponyo that closed the LA Film Festival.
Selena Gomez at Raise Hope for the Congo event at Jane's House in L.A.
Elisha Cuthbert and her sister Lee Ann at KOKO Restaurant + Bar in Montreal.
Alison Sweeney at the 36th Annual Vision Awards at the Beverly Wilshire Hotel in Beverly Hills.
Keri Hilson at the BK Giveable Gift Lounge and Upscale Loft Backstage at the 2009 BET Awards.
Erin Lucas dined with friends and sipped Moet Champagne during a leisurely brunch at Day & Night Restaurant Beach Club in Southampton!
Actor Steve Harris dined at FIX restaurant, on Friday, paving the way for Derek Fisher who dined at Bellagio Hotel hotspot on Saturday alongside wife Candace.
Millionaire Matchmaker Patti Stanger dropped by JET Nightclub, the same night that the Miami Dolphins linebacker, Joey Porter, was there with an entourage of 12. Also there, international soccer sensation, Frank Lampard taking photos with fans.
Article continues below advertisement
English rock icon Chris Squire dined at STACK on Sunday, June 28, with his family.
The Bank Nightclub in Las Vegas welcomed an impressive roster of A-list ATHLETES beginning on Friday, June 26. Channing Frye of the Portland Trailblazers and Sean May of the Charlotte Bobcats were both joined by their significant others at the Friday night throwdown. Ray Emery, goalie for the Philadelphia Flyers partied nearby while Chelsea England soccer sensations Wayne Bridge and Shaun Wright-Phillips had onlookers agape just across the room.
Up-and-coming hip hop hottie, Wynter dined at Yellowtail Japanese Restaurant on Sunday June 28, enjoying the lavish service and cuisine prepared by celebrity chef, Akira Back, after a long weekend in the City of Sin.
O'Neal McKnight performed his hit single "Check Your Coat" for a rowdy crowd of Monday-night-partygoers, including Tyronn Lue, Orlando Magic point guard, at JET Nightclub on June 29. Following his performance, McKnight danced and and took Patron shots in a VIP booth, while Lue enjoyed Moet Rose champagne across the room.