NEWS
Spotted!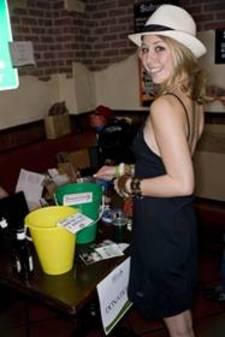 Holly Montag giving the donation that helped The Happy Ending Bar in L.A. top their goal of raising $15K at a St. Baldrick's Foundation Charity Event March 14.
Penn Badgely walking in NYC's West Village on Saturday afternoon.
Kobe Bryant standing in line for 10 minutes with his daughters at Sprinkles Cupcakes in Newport Beach, Calif.
Rita Wilson and Tom Hanks arriving to the private dinner reception at NineThirty Restaurant prior to Wilson receiving her Distinction in Theater Award at the Geffen Playhouse's Backstage at the Geffen Gala.
Article continues below advertisement
Kelly Clarkson at Koi NYC.
Paula Abdul eating crispy rice at Koi L.A.
Jeremy Piven flirting with a brunette at Teddy's in L.A.
Brothers & Sisters' Sarah Jane Morris arriving at an EcoStiletto.com event in L.A. in a veggie-diesel powered vintage Mercedes.
Simon Cowell having a post-Idol dinner at Cecconi's in L.A.
Leonardo DiCaprio and Lukas Haas at Hyde in L.A. until 3am.
Kim Kardashian sucking on this "blinged out" Couture Lollipop created by Sugarfactory.com when she arrived at JFK March 15.
Janet Jackson tipping the waitress $50 while at Apple Lounge in L.A. March 13. Christina Aguilera was there with her husband, drinking Pinot Grigio.