NEWS
Spotted!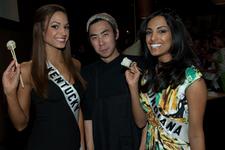 Miss USA pageant contestants took time out of their busy schedule before Sundays show to visit SUSHISAMBA strip at the Palazzo Resort Hotel and Casino in Las Vegas. All 26 eager contestants showed up earlier this week for a Sushi 101 class led by SUSHISAMBAs Chef, Yuki Leto.
After learning a quick crash course on the art of sushi making, the pageant queens dove right in and did their best to create signature SushiSamba rolls. For most girls, this was the first time they had ever eaten much less rolled sushi -- but that didnt stop them from having an amazing, fun time.
Article continues below advertisement
After the class, the contestants had a delicious sushi dinner courtesy of SushiSamba. The contestants enjoyed themselves and the food so much; many said they would return later in the week once their family members came to town.