NEWS
Spotted!: June 26, 2008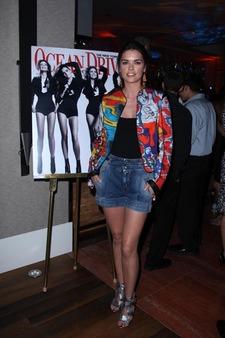 • Katie Lee Joel overheard telling guests, including Beth Ostrosky, at the launch for her June Ocean Drive cover party at South Gate restaurant that her husband Billy Joel has been taking the magazine all over Long Island to show off to his friends!
• Cameron Diaz smiling and radiant as she breakfasted at Cafe Montana, Montana Avenue, in Santa Monica, on Thursday morning with three companions. She was wearing jeans and a blue tunic and carried a crocheted pale yellow purse which she rocked with cute gold flats. Cracking jokes as usual and being lovely to the staff, Cameron munched on her breakfast burrito which she washed down with a full fat latte! No diets for this athlete!
Article continues below advertisement
• Adrien Grenier overheard inviting friends to continue celebrating the longest day of the year -- June 21 -- at his Hollywood Hills home following the Stride Gum "Ridiculously Long Lasting" celebration at Crown Bar in L.A.
• Sarah Michelle Gellar drinking Barefoot Bubbly at the wrap party for Veronika Decides to Die at the Hotel on Rivington.
• Hilary Duff dressed down in her Sweetees Lou Dress with boyfriend Mike Comrie at Katsuya in Studio City, Calif. for a low-key lunch date on June 14.
• Wilmer Valderrama, spotted with a large group of friends, on the main VIP stage of the lavish LAX Nightclub taking shots of Patron and cheered to the night with Grey Goose cocktails.
• Martha Stewart sipping hot tea and sampling dim sum at Wei Fun in East Hampton.