NEWS
Stacy Keibler "Happy" to Live in George Clooney's Present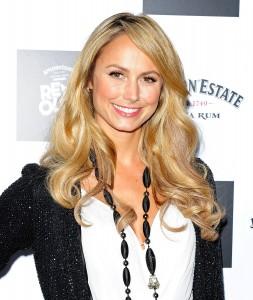 When I judged the Dress To Kilt fashion show in April, Stacy Keibler was eager to make small talk backstage. We had hours until the show began, and our hair and makeup was already done.
Now that the former wrestler and Dancing With The Stars beauty, 31, is on the arm of George Clooney, much has changed since that spring day. We meet up Monday when she judges the Appleton Estate Reserve Remixology Bartender Challenge at Hotel Chantelle in NYC.
Article continues below advertisement
Although she's more guarded (she won't say what she loves about the 50-year-old Oscar winner, or even name a drink she likes to make for her man), she's still friendly – and loving the spotlight.
" I'm happy," she says with a laugh.
Their budding romance recently included a trip to the Toronto International Film Festival, where she was his date to the Vanity Fair-Fox Searchlight party for his movie The Descendants. The pair also hit The Ritz-Carlton's Deq lounge.
"It was great," she says of their Canadian getaway. "I have such great, close friends that live in Toronto, of ten years, so it was wonderful to see them and take them with me everywhere, and to enjoy the movies together."
Hm, what do they think of her new life?
"They're just so excited," she says. "The best thing in the world is to have trustworthy, loyal, amazing friends. With everything being so fast-paced, I never know what's going to happen when I wake up the next day."
Article continues below advertisement
One thing she's not doing is looking too far ahead when it comes to Oscar, holiday, or even Halloween plans.
"I have no idea what I'm going to be for Halloween this year, but I definitely will be with my parents. Regardless of where I am, I'll definitely be with my parents for the holidays."
Like good Clooney arm candy, she isn't concerned with getting married in the future.
"I really just live my life in the present," she tells me. "I don't really think that far ahead. laughs"
And currently that present is truly a gift. Even though she pulls together tonight's ensemble of a sequined Parker jacket, 7 for all Mankind jeans and Christian Louboutin heels from her own closet, she utilizes a stylist when needed, and luxuriates in designer tastes.
"I love Chanel. My Chanel bags – I just love them. I think they're so timeless and so classy."
She's also amped up protection on her 42-inch legs.
Article continues below advertisement
"I do have them insured," she tells me, although she won't admit their value.
Stacy's ready to go wherever life takes her.
"I'm always traveling, so I'm always on the go," she says.
While some may get lazy when on vacation, she makes an effort to slip in a workout when she's away.
"I have bands, and things that I pack in my suitcases with me. I have a complete fitness routine my trainer gave me that I don't need any weights at all, so I always make it a commitment to try to get in my exercise while I'm gone."
Despite all the changes, Stacy keeps a firm grip on her charmed reality.
"I've always been able to be very balanced, and I think what keeps me very grounded is my good friends and family."
Perhaps she'll heed her own advice for meeting a boyfriend's parents when it comes to getting together with George's parents for the first time.
"Just be yourself," she says.
Incredibly, she's come a long way from her previous days in the workforce.
Article continues below advertisement
"I worked the front desk of a Powerhouse Gym when I lived in Baltimore," she tells me.
But showbiz isn't new.
"I got my first paycheck at the age of five, doing commercials and modeling," she says. "I was always in the entertainment business."
Stacy bobs her head along when the Shabba Ranks tune I'm In Love With A Man Nearly Twice My Age plays. (Ha!)
She sips 12 cocktails developed by four competing bartenders, judging on creativity, originality and use of Appleton Estate Rum before proclaiming the winner to be Natalie Jacobs of NYC's Lani Kai.
No wonder George loves her. Her phone buzzes all night – could it be him?