NEWS
Stallone Says Mickey Deserves the Oscar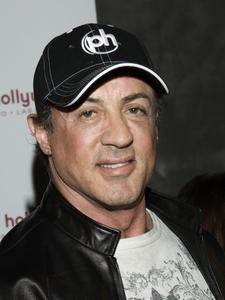 Sylvester Stallone is no stranger to hard-bodied, muscly, masculine movies, so it's hardly surprising that he's thrown his support behind Get Carter co-star Mickey Rourke in the Oscar race.
"Mickey, if anybody deserves an Oscar, it's you," he tells Extra. "No question about it. You lived it. You earned it. You deserve it. You're an incredibly talented man. It's about time everyone says, 'You know what. Give it to the winner.' "
Article continues below advertisement
Sylvester who Mickey credits with helping him resurrect his career, also adds that he wasn't at all surprised to see his buddy getting award noms for his role in The Wrestler.
"I can totally believe it. It was just a matter of time. He's a tough a** guy," he says. "He's old school... Eventually someone was going to do a story that captures his heart, his plight and his biography."
As for his own next steps, Rambo funs should get excited – he's coming back.
"We are doing another Rambo, but the conflict is whether to do it in America or a foreign country," Sylvester reveals.