NEWS
Star Jones, 'Celebrity Apprentice' Winner?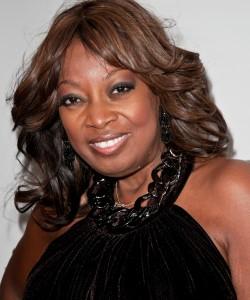 Although NeNe Leakes and Lisa Rinna have famously feuded with Star Jones, the former View co-host fuels my hunch that she wins The Celebrity Apprentice this week during HealthCorps' Fresh From The Garden Gala held at Intrepid Sea, Air and Space Museum in NYC.
Not only does she accept a high-five from a gal pal (and gamely chat up several men) during Dr. Oz's benefit to combat childhood obesity, but she is smart, sassy and measured – traits the Trumps admire.
Article continues below advertisement
And like Donald, who has taken his hits, Star, 49, knows how to roll with the punches.
"I get along with everybody – they don't get along with me," she tells me with a laugh.
I had to ask - what's her advice for getting along with co-workers who don't like you?
"First of all, you need to establish if they're co-workers," she says. "There's a difference between a co-worker and a competitor. I'm playing the game."
Also: She holds her own, and her opinion is not easily swayed when it comes to The Donald's potential presidential run.
Case in point: She won't cast her ballot for the reality star simply because he's her boss and they're in the spotlight together.
"I'm just not a Republican," she says. "I'm a Democrat. I think most people have seen me that way. I've been a national surrogate for the Democratic party for the last four presidential elections, so I think it's a little disingenuous of me to stand on a red carpet and say 'oh yes, I would vote for Donald Trump' when everybody in the nation knows that I've traveled the country on behalf of the DNC."
Article continues below advertisement
She continues, "Donald and I are friends first, but we disagree on a lot of political issues. I don't like the fact that people have tried to make this an issue that is black and white, because I've known him a long time, and that is unfair and it is absolutely wrong."
Still, she jumps to his defense.
"I disagree with him on a whole lot of stuff, and I don't have any problem saying it, and I have said it to him. But I won't let anybody attack my friends. I don't think that's right."
Star deflects when asked specifically if she will be the final person standing.
If she doesn't win Celebrity Apprentice, perhaps she should have been the champ?
Only time will tell.
Catch The Celebrity Apprentice Sundays at 9/8C on NBC.